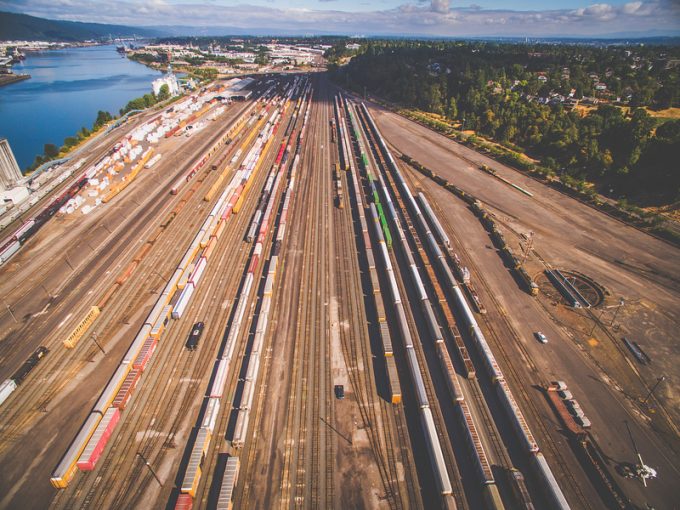 The peak season appears to have come early this year for rail shippers in southern California,
Spot rates for bookings on Union Pacific (UP) surged as much as 40% as customers scrambled for containers and open slots on trains.
According to one source, the shortage of containers has been at a level usually seen at the height of a peak season.
In an announcement to customers on 30 June, Kenny Rocker, UP's executive vice-president marketing & sales, noted that volumes had risen as auto manufacturing and other industries rebounded from reduced operations, resulting in a 9% climb in seven-day carload volumes compared with May.
"Our network continues to be fluid, and we are adjusting our resource levels accordingly to handle the increase in freight volumes," he said.
Besides the pick-up in economic activity, the rapid increase in e-commerce appears to be one reason for the equipment shortage. Deyman Doolittle, chief operating officer of ShipSights, which helps shippers reduce their transport spend, noted that UPS had reportedly bought up all the rail capacity it could.
Some of ShipSights' customers have seen e-commerce explode almost 300%, pushing them to use "almost every form of transport".
Another factor is a resurgence in cargo flows from Asia through the marine gateways in California. In the first five months of this year, the Los Angeles market accounted for 5.8% of US domestic freight moves, but it subsequently climbed to 6.85%, which suggests that the migration of imports from Asia to US east coast ports has been halted in the pandemic, owing to faster transit times and low truckload rates.
Some customers see UP at fault, for not returning equipment, parked in response to the slump in traffic during the lockdown, to service fast enough. They say containers as well as flatcars and locomotives have been in short supply.
And this is not the first time since the Covid-19 outbreak that US shippers have struggled with a shortage of rail containers. It happened in April, particularly in the US heartland.
While June saw a recovery of rail traffic in the US, overall, volumes are still down. Data from the Association of American Railroads show a decline of 22.4% in carloads from June 2019, due to double-digit drops in a number of commodities, including coal (down 34.1%) and motor vehicles and parts (down 30.3%). Intermodal containers and trailers were 6.6% down.
"June was a month in which the slow recovery process that began in early May began to accelerate," said AAR senior vice-president John Gay. "Leading the way was the intermodal business, which, over the past two months, grew to match volumes last seen around the first of February."
Overall US rail traffic for the first 26 weeks of 2020 was down 13.2% from a year ago. In light of this, the current equipment shortages are a concern for the coming weeks, especially if a peak season were to unfold. If traffic continues the upward momentum of recent weeks, rail clients will likely continue to scramble for capacity.