While China once again topped Agility's Emerging Markets Index, it will be SMEs in developing countries and renewed interest in investing in India that could drive much of the growth this year.
The IMF yesterday published annual survey results in its its World Economic Outlook, raising its forecast for global growth to 3.9% this year and next, up 0.2% from initial predictions.
It also predicts 4.9% growth in emerging markets – up from 4.6% in 2017 and 4.3% in 2016 and 2015 – however, this growth is expected to be patchy.
Essa Al-Saleh, chief of Agility Global Integrated Logistics, said two-thirds of respondents to the survey agreed that the forecasts were "about right".
He added: "I am optimistic. There will be overall growth, but it will be uneven. Some countries will be stellar, some will muddle through."
He also noted that more than half the respondents thought SMEs would be the fastest-growing sector in emerging markets over the next five years, with only a quarter thinking large companies would benefit most.
"Technology is a key part of that change," said Mr Al-Saleh. "It can cut through the noise, help SMEs interact with all the supply chain and help them make and receive payments. I am optimistic that SMEs will be a strong driver for global economic growth."
While last year's top four: China, India, the UAE and Malaysia held their ranks, there was some shuffling further down. The top movers upwards were Egypt, Qatar, Bangladesh and Pakistan, while the biggest losers were Venezuela, Nigeria, Brazil and Kazakhstan.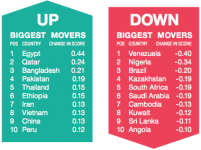 India fared well in respondents' opinions: some 37% saw reforms there in a positive light and were more likely to invest in it as a result – up from 22% last year.
"[India] remains a large emerging market with excellent growth prospects, which is held back by mediocre business conditions and infrastructure (though infrastructure in particular is improving rapidly)" notes the report.
"Its inertia in the index this year may surprise some, given the generally positive news surrounding its economic reforms, especially the Goods and Services Tax (GST), but the data is yet to catch up with any impact that such reforms may have had. Many have touted its reforms as 'game-changing', and that proposition is examined as an emerging narrative."
It adds that GST will trigger supply chain network changes, as the tax regime "no longer incentivises setting up one major warehouse in each state" – allowing inventory to be centralised.
Despite Nigeria's fall, Mr Al-Saleh said he was confident about the country's future and that it would see investment, noting that the short-term outlook was positive.
"We see Nigeria turning the corner. Oil prices have begun to recover and growth resumed at the end of 2017.
"Nigeria is Africa's largest single market with over 200m people. It's got natural resources that provide government revenue and drive the economy. Despite the difficulties of the past three years, significant infrastructure expenditure is ongoing and more is planned in the 2018 budget."
Brazil was one of the worst-performing, but things could have "bottomed out", says the report.
Noting corruption scandals and poor economy, the report adds: "Perhaps the bottom of the barrel has been reached, although that is by no means a sure thing. The IMF forecasts economic growth of 0.7% in 2017 and 1.5% in 2018."
The index also examines tradelanes, and reveals that intra-Asia has the best potential, followed by Asia-Europe and Asia-Africa.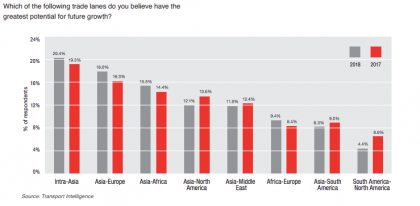 The five fastest-growing air freight lanes in 2017 were from the EU (to Ukraine, Qatar and Angola) or from the US (to Ecuador and Russia).
EU air shipments to emerging markets were on pace to increase by 10.2% for 2017, while US air shipments to those same markets look set to grow by 9.1%.
Air freight out of emerging markets fared less well, with Ethiopia to the EU, Mexico-EU and Chile-US trades expected to contract. Cambodia, Indonesia, Sri Lanka, Ghana and the Philippines to the EU are expected go be fastest-growing lanes, at 44%, 39%, 34%, 33% and 25% respectively.
In ocean freight, which had a less stellar year, the five tradelanes forecast for the fastest growth into emerging markets were US-Bangladesh (+110.1%), US-Nigeria (+73.9%), US-Malaysia (+45.0%), US-Pakistan (+38.0%) and EU-Russia (+31.0%).
Of emerging markets, the greatest gains were expected to be seen on Qatar-EU (+121.7%), Nigeria-EU (+78.9%), Egypt-US (+75.0%), Ukraine-US (+70.9%) and Morocco-US (+58.1%).
Overall, EU ocean freight from emerging market origins is predicted to grow by 6.8%, while inbound US ocean freight is projected to decline 9.8%.
You can read the report, published by Transport Intelligence, in full, here.