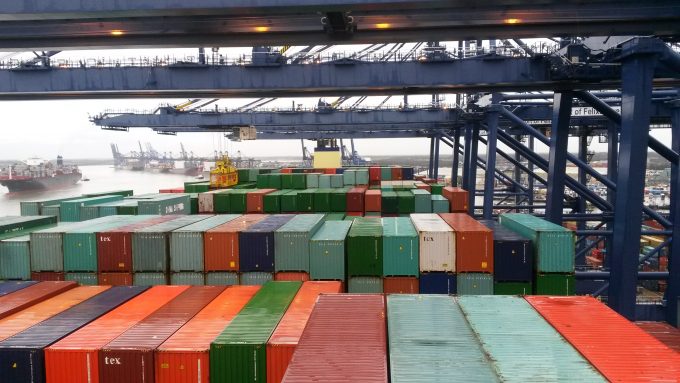 Spot container shipping rates fell across all the main container trades this week as carriers released a set of half-year financial results that almost uniformly showed the industry operating at a loss.
Every single trade lane measured by the Shanghai Containerised Freight Index (SCFI) saw rates decline, apart from the intra-Asia Shanghai-Singapore and Shanghai-Hong Kong legs, which were flat.
Rates on the main Shanghai-North Europe leg dropped by 10.5% to rest at $771 per teu, down from $861 per teu last week, while the Shanghai-Mediterranean leg was the worst performer, dropping by a steep 19.2% to finish at $699 per teu, compared to $865 per teu last week.
The declines follow first-half figures that show volumes on the main deepsea trades remaining stubbornly flat, despite the supposed beginning of the peak season.
According to data from Container Trades Statistics (CTS), headhaul volumes on the Far East-Europe westbound route grew by 1.3% in the second quarter of 2016, while PIERS data recorded eastbound transpacific volumes as shrinking by 0.7% in the same period.
Alphaliner said that weak volumes had persisted into July and August, but added that carriers had managed to achieve relatively high utilisation levels by trimming capacity, with average utilisation in the third quarter reported to be around the 95% level, with only the Asia-Mediterranean route below 90%, "due in part to capacity additions implemented by the CKYHE carriers earlier this year".
"The relatively high capacity utilisation levels, however, do not have their cause in stronger cargo demand, but result from supply side adjustments. Triggered by rock-bottom freight rates, carriers had resorted to notable capacity cuts on the two main routes," Alphaliner said.
On the Asia-Europe route, weekly capacity has risen by just 2.3% year-on-year in August due to the continued injection of new 14,000-20,000 teu ultra large container vessels, which was "largely counterbalanced by a reduction on the number of weekly services, as each of the four alliances has removed one Asia-Europe string since September last year", it added.
Carriers are also adjusting their strings in order to further trim costs in the face of weak pricing. Maersk Line earlier this week announced that it has dropped some 10 minor ports and inland destinations in China from its services.
Chizhou, Luzhou and Yueyang on the Yangtze river, the northern ports of Yingkou, Jinzhou, Rizho, and the Pearl River Delta ports of Lijao, Taiping, Jiaoxin and Nansha old port have all been dropped from its list of serviced ports – although it is likely that the discontinuing of the service to Nansha old port is part of the Guangdong government's policy to remove cargo operations from Guangzhou city centre.
"The purpose is to focus on the ports that we could offer the most benefits, that in the end create growth, better service and opportunities for our customers. We will cease acceptance for both import and export shipments in/from the above ports from 1 September," the company said in a statement.
Not all of those are small ports – Yingkou handled 3.03m teu in the first six months of this year, a 1.7% increase on the first half of 2015.
Elsewhere, container shipping spot rates on the Shanghai-US west coast transpacific leg were down by a more modest 4.1% to rest at $1,225 per feu, and were down by 6.2% on the Shanghai-US east coast service to finish the week at $1,768 per feu – a decline of $116 per feu from last week's $1,884 per feu.
Alphaliner data showed that weekly transpacific capacity had been reduced by 2.7% year-on-year this month, after the Ocean Three alliance withdrew two Asia-US east coast strings and one west coast string in June. The G6 alliance also withdrew one Asia-US west coast service.