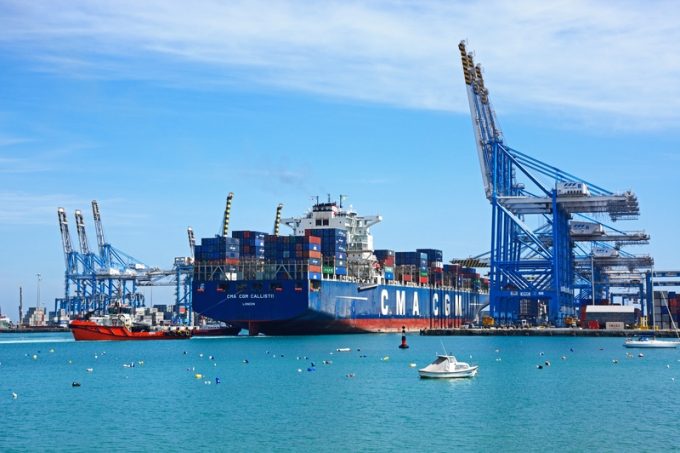 The Shanghai Containerized Freight Index (SCFI) comprehensive index continued its positive run this week, rising 5.4% to 1,055.13 as the major tradelanes all registered gains.
The Asia-US west coast component of the SCFI recorded another 8.5% jump in container spot rates, to $2,920 per 40ft, while rates to the US east coast increased by 4.7% to $3,459 per 40ft.
Rates for the US west coast are now some 70% higher than a year ago, with US east coast rates ahead 24%.
Transpacific carriers are rushing to 'unblank' sailings to the US west coast to take advantage of the unexpected demand spike, including OOCL which yesterday announced the reinstatement of two cancelled voyages at the end of the month.
According to eeSea data, carriers are only intending to blank eight of the scheduled 241 loaders from Asia to the US in August, and just one of the advertised 244 sailings for September, suggesting there is renewed optimism for a peak season on the tradelane.
Freightos CMO Eytan Buchman said "better than expected consumer spending in May" had encouraged importers to "get busy in June".
He suggested that the "looming August expiration date on some US tariff exemptions for Chinese goods" was also a driver, prompting another wave of front-loading.
"The dramatic spike in rates, together with other signs of improved volumes to west coast ports, may show that importers are looking to get their shipments as quickly as possible. This urgency could show that businesses are eager to get these goods now, before consumer behaviour changes," said Mr Buchman.
Meanwhile, today's SCFI recorded an increase of 1.9% for spot business to North Europe, to $907 per teu, which is 29% higher than for the same week of last year.
For Mediterranean ports, rates were virtually unchanged at $970 per teu – 34% higher than 12 months ago.
Notwithstanding its $200 per teu peak season surcharge from 1 July, CMA CGM has decided to keep its FAK rates unchanged at $2,200 per 40ft for both North Europe and the Mediterranean.
Reports to The Loadstar from NVOCCs in China suggest that the extra capacity introduced to mitigate the impact of loop suspensions, in the form of the bigger HMM vessels deployed by THE Alliance and the Griffin/Sweeper inducement sailing of the 2M, had "eased the tight market situation".
"Some box liners lowered the spot rate in order to increase the loading rate," confirmed the Ningbo Containerized Freight Index (NCFI) commentary.
Martin Holst-Mikkelsen, head of ocean freight EMEA at Flexport, told The Loadstar "demand remains good" and "utilisation is high" on sailings ex-China.
"We are seeing a very positive outlook, volume-wise, going into July, with less rolling in the past weeks, a trend set to continue in the coming month," said Mr Holst-Mikkelsen, adding that despite THEA and 2M's additional offerings, he expected carriers to maintain their disciplined approach to capacity management.
Elsewhere, however, carriers are not having it all their own way – the Asia-South America market has suffered a substantial reduction in demand due to the pandemic. This has caused spot rates to nosedive across the Latin America tradelanes, despite very aggressive carrier blanking programmes.
The SCFI reading for Shanghai-Santos plunged a further 21% this week to $615 per teu. In the same week last year, the SCFI Shanghai-Santos reading stood at $2,260 per teu.