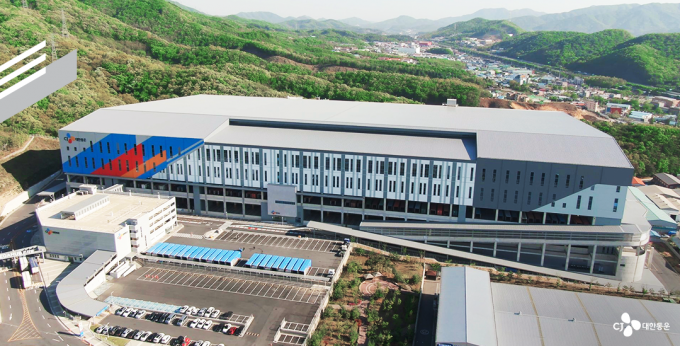 Industrial action by sub-contracted workers of South Korea's largest logistics company, CJ Logistics, continues to drag on.
The militant Korean Confederation of Trade Unions (KCTU) is staging a rally today, in defiance of Covid-19-related restrictions on gatherings.
Nearly 2,000 unionised workers demonstrated in front of Cheonggye Stream, in downtown Seoul, contravening rules limiting rally attendances to 299 people and carrying on a strike that began on 28 December.
The demonstrators used a vehicle belonging to presidential candidate Kim Jae-yeon, as campaign events are not affected by the limits on gathering sizes.
Since 10 February, around 200 unionised members have occupied the first and third floors of CJ Logistics' headquarters in Seoul after forcing their way in,  calling for an industry-wide strike if the firm does not agree to demands for higher wages and better working conditions.
The union claims that while CJ Logistics hiked delivery fees by 27 cents, in response to surging demand relating to more e-commerce sales, the higher fees did not translate into higher wages, with the company's management merely "fattening its profits".
The discontent among the workers began with complaints to the National Labor Relations Commission in June 2021, and the commission ordered CJ Logistics to negotiate directly with the KCTU. But CJ Logistics' management has refused to bargain with the workers, whom they describe as sub-contractors hired by delivery agencies.
KCTU head Jin Kyung-ho has now threatened to go on a hunger strike, although the siege at CJ Logistics' HQ was partially relieved today when the workers left the third floor of the building.
CJ Logistics' operations have been affected, but the authorities are still hoping to get the unionised members to leave the building peacefully.
The KCTU-affiliated workers account for just 7% of CJ Logistics' delivery staff and parcel deliveries are continuing, albeit with some delays. The Ministry of Land, Infrastructure and Transport has hired 10,000 temporary workers to help CJ Logistics deliver parcels between 17 January and 12 February.
This month, CJ Logistics said its 2021 net profit was up 11% year on year, to $132.1m.