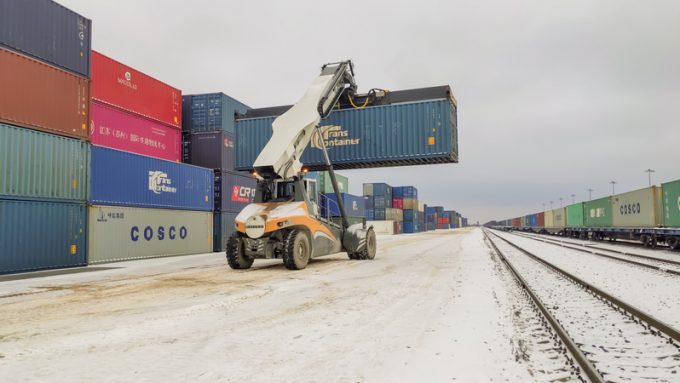 Russia is experiencing a boom in China-Europe rail freight volumes, but it is bringing congestion at key border crossings.
According to Russian Railways (RR), January-to-September volumes were up 47% year on year, to 568,700 teu, more than during the whole of last year.
Trains from China to Europe carried 379,600 teu, up 40%, but the rate of growth from Europe to China was faster, with volumes up 70% to 189,100 teu for the nine-month period.
The railway operator said the bulk of the volumes were industrial goods, chemicals, vehicles, components, machine tools and engines.
The increase in traffic was facilitated by the "establishment of competitive pricing conditions," RR added, as well as the development of transport and logistics infrastructure and the diversification of transit routes through the country.
Indeed, the Russian Silk Road route has gained multiple new and upgraded services over the past 12 months, as shippers look to avoid the capacity crunch in air and ocean freight.
For example, in April, Maersk upgraded its AE19 Asia-Europe service along the trans-Siberian to four times a week, while 2M compatriot MSC launched a similar sea-rail operation via the ports of Vladivostok and Vostochny. Maersk has previously claimed the Russian rail route was more reliable than the alternatives through central Asia, given the fewer border crossings and it avoids the regular congestion along key China-Kazakhstan transhipment points.
Furthermore, this month, Rhenus Logistics launched an Asia-Europe multimodal service from South Korea, via Russia.
Patrick Dargel, MD of Rhenus Korea, said: "The Asia-Pacific market for rail freight transport is expected to gain momentum  as intermodal solutions continue to grow in popularity amid the evolving supply chain challenges worldwide."
However, recent reports suggest Russia's booming rail volumes are putting a strain on infrastructure and staffing levels and creating a shortage of rolling stock, leading to bottlenecks and delays.
Jacky Yan, founder and CEO of New Silk Road Intermodal, told The Loadstar congestion was increasing at Manzhouli and Erenhot, the main border crossings on the China-Russia route.
He added: "The rail volumes are surging in Russia because of its peak season for winter clothes and boots and the Christmas peak. Rail is the primary option for Russia, especially the Far East regions."
Meanwhile, in a bid to alleviate the rail freight congestion in Europe, a new 450,000 teu capacity terminal has opened in the Russian enclave of Kaliningrad.
Rail volumes via Kaliningrad have seen rapid growth, having increased from 3% of total China-Europe throughput in 2019, to 8% last year. Cargo is either shipped from the Russian hub to other European sea ports, or enters Poland via rail on an alternative line to Malaszewicze, a major congestion hotspot.