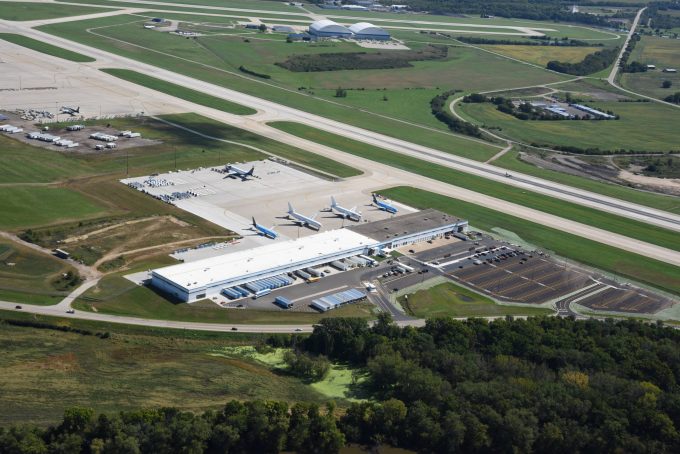 Propelled by growth in both e-commerce and heavy airfreight, Rockford International Airport (RFD) is embarking on a large expansion of its ground infrastructure, adding two cargo buildings and parking space for freighters.
The $42m international cargo centre is scheduled to come onstream this year in two phases, starting with a 90,000 sq ft warehouse by 1 July. The second phase, slated for November, will add 100,000 sq ft.
The airport is also creating ramp space for six aircraft parking positions, big enough for 747 freighters, with two due to be ready at the end of the first phase of construction.
RFD has enjoyed rapid growth in cargo traffic over the past couple of years; an 11% rise in throughput in 2019 was followed by an increase of 15% last year, which pushed volumes to 1,2m tonnes.
The biggest part of this surge was e-commerce traffic, with RFD the second-largest hub in the US for UPS, which currently slots 40 flights a day through the airport.
During November and December, the integrator was moving 747Fs through RFD, in addition to the smaller jets that routinely call.
And Amazon, which operates a 200,000 sq ft facility at the airport with ramp space for up to 10 freighters, frequently changes aircraft gauge and frequencies, which makes it hard to keep track of its traffic volume, said Ken Ryan, the airport's director of cargo.
RFD has handled cargo charters for years, but struggled to anchor a regular international heavy cargo operation. That changed in September, when Senator International extended one of its dedicated transatlantic freighter runs with 747-400Fs between Hahn in Germany and Spartanburg-Greenville to RFD on a weekly basis, using it as its US Midwest hub.
And Mr Ryan did not have to wait long for another international freighter link: on behalf of DB Schenker, National Airlines started a weekly freighter operation late last month that connects Rockford with Tokyo and Seoul via Munich.
Interest among forwarders and carriers has picked up, Mr Ryan said, adding he has had talks with several about flights to RFD. The rise of dedicated freighter flights to compensate for the lack of belly capacity has put a stronger focus on cargo airports, which has been reinforced by the congestion at many large gateways.
"The majority of passenger hubs are overwhelmed, inside and outside the fence," Mr Ryan said. "They seem to be taking a long time to recover freight." He added that this was benefiting airports with a strong cargo focus, like Rickenbacker, Hahn or Liege.
There has also been a shift in the nature of the work at RFD. Traditionally, ULDs of landed freight were trucked to forwarder locations, primarily Chicago O'Hare, about an hour away, but lately requests for cargo to be broken down at RFD have gone up, as have requests for build-up of ULDs for export. This shift has happened sooner than expected, said Mr Ryan.
The two new cargo buildings should see more of this activity. The first will be run by handling firm Emery Air, but two-thirds of the facility will be sub-leased to Senator. And DB Schenker has committed to half of the space in the second building, according to Mr Ryan.
So, with most of the space in these facilities already taken, he is looking at further expansion: the site has space for two more buildings, one with a footprint of 50,000 sq ft, the other with 150,000 sq ft. And down the road there is ample room for further expansion outside the airport perimeter, he said, adding that the fence could be pushed outward.
There is also space for more aircraft parking. Currently there is a gap between the ramps used by UPS and Amazon that could be paved to create more parking spots.
It remains to be seen how much of the dedicated freighter traffic will remain when bellyhold capacity finally returns to pre-pandemic levels, but for the time being, the signs point to more freighter activity at RFD. DB Schenker has announced it intends to mount another all-cargo routing that will alternate from Munich to RFD and Chennai.