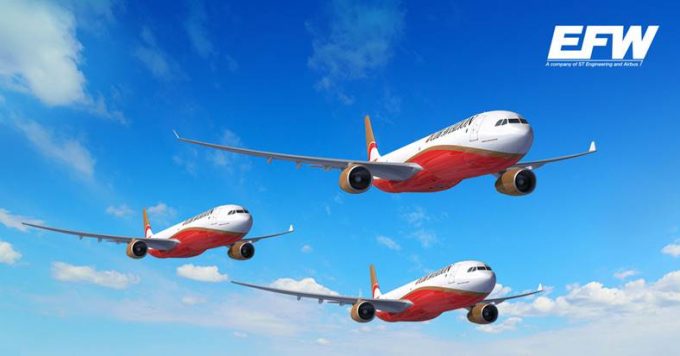 PRESS RELEASE
SINGAPORE – February 15, 2022 – CDB Aviation announced to have committed to an additional twelve conversions with Elbe Flugzeugwerke GmbH ("EFW"), expanding its A330 P2F fleet to fourteen aircraft. Moreover, the lessor is on pace to launch the A330-300 P2F freighter type in China in 2022, with lease commitments from Sichuan Airlines and Jiangxi Cargo Airlines.
"We have strategically positioned our platform to be the A330 P2F program frontrunner among lessors," commented Patrick Hannigan, CDB Aviation's Chief Executive Officer, adding that the A330 P2F marked the lessor's first entry into the air cargo space. "We're very satisfied with this program's progress and momentum to date and look forward to further expanding our freighter fleet in collaboration with our partners at Airbus, ST Engineering, and EFW."
CDB Aviation's first two A330 P2Fs are currently being converted in EFW's facility in Dresden, Germany, and will be re-delivered to its launch operator, Mexico-based MasAir, in early 2022.
 "We are proud to have leading lessor CDB Aviation on board, growing its orders for A330 P2Fs," said Andreas Sperl, EFW's Chief Executive Officer. "The A330 P2F program is proving highly popular, and we now have over eighty aircraft on order. EFW is leading the overall A330 P2F program, which is a collaboration between ST Engineering, Airbus, and EFW. To ensure we can meet the rising demand for freighter conversions, EFW and ST Engineering are in the process of ramping up their conversion capacity."
CDB Aviation will expand its global conversion footprint by becoming the first customer for A330 P2F conversions to take place in the facilities of ST Engineering in Shanghai, China, and VT MAE in Mobile, Alabama, U.S.A. These conversion locations have been added to the existing A330 P2F conversion facilities of EFW in Dresden, Germany, and ST Engineering in Singapore. By the middle of 2022, the lessor plans to have aircraft converted simultaneously at three locations – in Dresden, Shanghai, and Mobile.