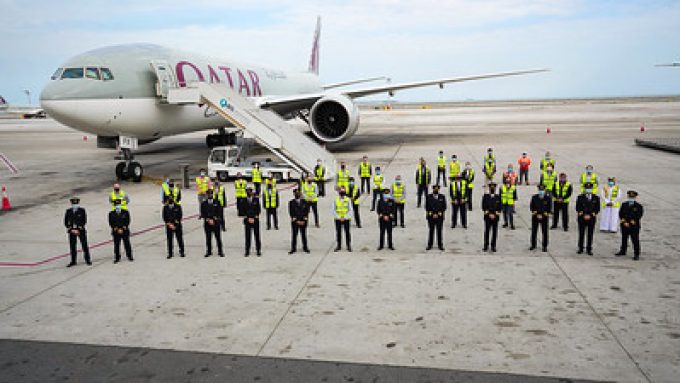 UPDATED 5 JAN
The new year for air cargo has kicked off with new freighter capacity in the market as the passenger business continues to stumble in the face of the pandemic.
Volga-Dnepr began bringing its AN-124s back into the market after grounding the fleet in November, following an engine failure, with one back in operation at the end of December, following the completion of technical checks and service directives. Two aircraft are currently flying, with additional aircraft coming back at a pace of 7 to 10 days per aircraft, said Konstantin Vekshin, chief commercial director of Volga-Dnepr Group.
"We have two An-124s back in service as of today. The ultimate return will be incremental and we will take our time to follow the guidelines reflected in the service directives."
The carrier said it would discuss the return of its fleet with customers individually, and would keep them informed of progress. Mr Vekshin added: "We are in the process of diligent execution of the service directives. Everything is on the right track."
Volga-Dnepr was not the only carrier with good news: Qatar Airways Cargo took delivery of three 777 freighters on 1 January, bringing its freighter fleet to 30, of which 24 are 777Fs, four are A330Fs and two 747Fs.
The airline said the new aircraft would be put on long-haul scheduled routes, as well as be open for cargo charters.
"We are injecting much-needed capacity in the market, helping support global supply chains at a critical time during the pandemic," said group chief executive Akbar Al Baker.
"The added capacity will enable us to support logistics around the Covid-19 vaccination, which is projected to be one of the greatest logistical challenges for the industry."
Qatar noted that it had also temporarily converted six of its 777-300ER aircraft to operate cargo-only flights, introducing an additional 137 cubic metres of cargo volume per flight over the lower deck cargo capacity of 156 cubic metres.
And Astral Aviation's first converted 767-200 freighter arrived in Africa last week to operate an on-demand charter service for vaccines.
CEO Sanjeev Gadhia said it was a "proud moment" as the aircraft touched down in Nairobi after delivery by ATSG subsidiary Cargo Aircraft Management in Wilmington. The five-year deal is Astral's first with ATSG.
"A great start to a great year ahead," said Mr Gadhia.
Meanwhile, Cathay Pacific Cargo has announced a new scheduled freighter service between Hong Kong and Riyadh, starting tomorrow, with a 747-400ERF operating every Tuesday via Dubai.
The airline said it had "seen a growing demand for air cargo flights between Saudi Arabia and Hong Kong. These new flights will meet the strong demand for shipments of e-commerce and other general cargo such as garments".