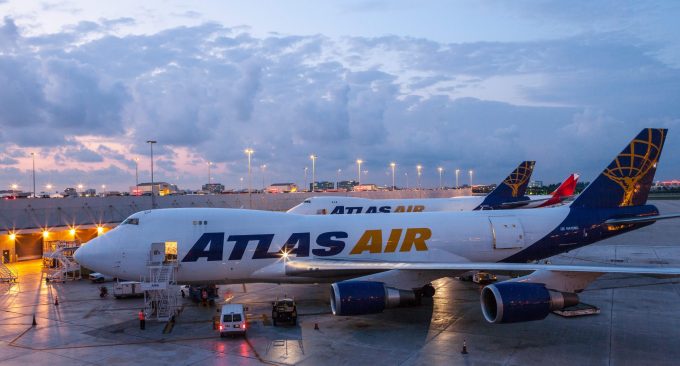 Atlas Air has reported another strong set of results, with net income up 35% year on year to $107m – but admitted to a problem with pilot retention and recruitment, as it awaits the arbitrator's decision on the collective bargaining agreement.
Pilots told The Loadstar last month 183 pilots left the airline in the first half of the year, and CEO John Dietrich admitted to investors in an earnings call that there was a shortage – but he insisted it was not specific to Atlas.
"There's no question that pilot availability is an industry issue. It's not an Atlas issue. And when you had some of the majors and legacy carriers and integrators putting programmes in place like early retirements … you had a lot of pilots come out of the market."
He added this should be coupled with the return of … domestic passenger travel and the significant expansion of colleagues in the industry – "FedEx and UPS are growing and they're hiring," he said. "All that places pressure on pilot availability, particularly near-term…
"It's not uncommon that, when larger airlines that have bigger contracts than ours are hiring, we lose pilots, that's just a fact of life. But when it's happening in an environment with big numbers, that has an impact on us."
He said the new agreement, expected to be announced in the third quarter, and the airline's "tremendous value proposition" would make it a carrier of choice for pilots.
But one pilot told The Loadstar last month: "It's no secret that US airlines are back to hiring again, full swing." He claimed that Atlas's "middle management was open to making changes to stifle attrition", but the chief executive, said to be the architect of Atlas's pilot strategy, "stood fast".
The pilot added that Atlas's commercial reputation was on the line, as it may have to turn down contracts: "A huge red flag."
Other pilots claimed Atlas had been forced to fly less because of the pilot shortage – but second-quarter block hours show aircraft utilisation in fact grew nearly 10% to 93,190 flights, after the carrier "reactivated" five freighters, one 777 and four 747s, in 2020.
However, the carrier's third-quarter estimates for block hours – despite industry predictions of a very busy peak season – are around the 90,000 mark, a reduction.
Mr Dietrich was bullish, however, and said:  "There will be a pilot increase, what we've described as a material pilot increase, coming sooner than later. We're in the home stretch here. It's all up to the arbitrator and timing, which is right around the corner."
While Atlas may be squeamish about paying its pilots, there is no doubt that the carrier has cash – in fact, $760.5m at the end of the second quarter. But it has decided to spend it on aircraft, and debt.
It is taking delivery of four 747-8Fs next year, which have a "pretty significant per-delivery payment schedule", said CFO Spencer Schwartz.
"We're in a really fortunate position… where we did not need to finance those; we've been able to pay those in cash … our balance sheet is quite strong, which allows us to do that."
The carrier also acquired three 747-400Fs between May and August which had been on lease, with agreements with lessors to buy five more in 2022. A further 11 aircraft will be on lease through to 2025 – "so we still have opportunities there to either release, not release or acquire those aircraft," said Mr Schwartz.
Atlas also said it would consider share buybacks once the restrictions imposed by the controversial CARES Act had passed. For now though, said Mr Dietrich: "We're focused on, honestly, making as much money as we can during this unprecedented period, keeping our head down, strengthening the balance sheet, continuing to manage through this pandemic, support our employees, invest in the business and seek to maximise our shareholder value in the multiple forms that that may take."
Atlas noted that its customers were "enjoying" having dedicated capacity, and that it expected that interest to last.
"We're creating a new customer base here, too, with the likes of Hewlett-Packard and others, where they typically had not committed to dedicated freighters," said Mr Dietrich. "And we see that as a trend that's renewing and, hopefully, expanding over time."
Mr Schwartz added that, while "the vast majority of these agreements go into 2022 and 2023, several now go into 2024″.
"We extended two agreements with two of the big forwarders. One, we extended a year into 2023. And one, we extended three years into 2024. We also entered into two new arrangements with two big forwarders. One goes to the end of this year, and one is for a couple of years going into 2023, all at very good rates."
The long-term contracts give the carrier more predictability, with less seasonality, although some 5% of its business is in the spot market.
Atlas said it expected revenues of nearly $1bn for the third quarter, with adjusted ebitda up to $250m, while net income should "grow approximately 50%" year on year.
You can see the results' highlights here, and the full results here