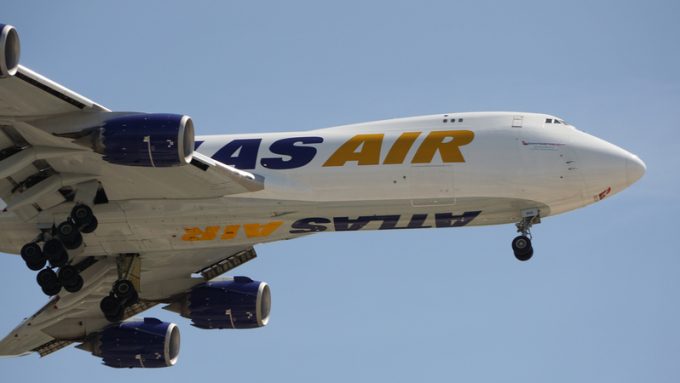 Atlas Air, as expected, had a rather good 2020: 2019's losses of $293m turned into net profit of $360m – a turnaround of some $653m.
Adjusted ebitda rose 67% to $844m for the full year and Atlas now has plenty of funding flexibility in a market flushed with liquidity.
But perhaps the most interesting measure is cash: all cash and cash equivalents (including restricted) soared more than 650% to $856.3m. Not a bad haul.
However, it's perhaps a less good result for the US taxpayer, because Atlas has effectively been funding part of its wages bill with US federal government money, despite having had a bumper year of profits. And so it has been able to squirrel away extra cash.
And the taxpayer looks set to pay part of the wages bill for some time to come.
Under the Cares Act, designed to give airlines support to retain jobs in the face of plummeting passenger travel, Atlas applied for some of the $4bn available to cargo carriers. In fact, it received the largest amount of any cargo carrier – no doubt reflecting its status as the largest US cargo carrier (with the exception of the integrators).
But not all carriers appeared to apply for the full amount available: Air Transport International, for example, part of ATSG, received $8m; Kalitta Air had the second largest amount at $161m. Atlas, though, went for a whopping £406.8m. It had to offer the government financial instruments worth $199.8m, but that still leaves it with $207m.
Salaries and wages surged to $737m from $599m in 2019, as Atlas offered pilots a premium of an extra 10% (having stalled pay rises for some five years and counting). That additional $130m came from the Cares Act funding.
Essentially,  Atlas is churning out cash like never before, and using Treasury money to pay staff. But that rise in wages looks set to be temporary, judging by the books (unless of course the US government believes that supporting the wages bill of a listed company that just had a Covid windfall is a good use of public money, and decides to continue it).
Atlas has, of course, done nothing wrong. It has complied with the conditions of the money – which means it can't buy-back shares and can't pay executives excessive amounts or dividends.
But the move is certainly not in the spirit of the Cares Act, or indeed, fair competition. As Congressman James Clyburn noted: "If your company did not need PSP funds to keep workers on the payroll, failing to return the funds to the Treasury would be inconsistent with Congress's clear intent."
In fact, while passenger airlines, as at 5 October, had used more than 99% of the funds available, only 20% of funds available to cargo carriers had been used, indicating, as noted by the government, that cargo has been less negatively affected by the pandemic.
Atlas is having to split semantic hairs to shoehorn this perfectly legal, but morally questionable move, into a reasonable light. When asked by The Loadstar the justification for applying for and keeping the Cares Act money, it argued: "The cargo carrier programme was created during a period of significant economic uncertainty, and our decision to participate reflected global economic challenges and threats of disruption that still exist today."
So what are these "threats of disruption" that could mean Atlas has to lay-off workers any day now? Surely, investors should be warned of this threat.
But in yesterday's earnings call, investors and the world were told: "A resilient business model allows us to sustain during challenging market conditions." Executives spoke of "long-term … agreements that provide reliable and attractive revenue streams for the years ahead".
And the first quarter is looking good – adjusted net income looks likely to grow between 60% and 65%, year on year.
So those potential "threats", either in the short, medium or long term, don't seem too real.
Atlas told The Loadstar, however that Covid-19 meant there was "an immediate and significant risk for incremental disruption". Which is not the story investors heard.
It is, however, nothing more than distasteful, in a year of real corporate catastrophes, job losses and taxpayer-funded bailouts. We all know that a company like Atlas won't pass up the opportunity of free cash, despite the cost to others.
And it still has free money to burn; next year it will receive four new 747-8Fs. It looks likely it will continue to support additional payroll expenses via its free cash, thus saving money which can be used to start paying for the aircraft. (It is unclear where or by how much exactly it is budgeting money for any pilot pay rise.)
In other news to come out of the earnings call, Atlas is bidding to operate the 11 B767s which Amazon  – which also now has some 2.7m shares in Atlas – just acquired. It said it would look at M&A – but it didn't sound convincing. Executives tried to paper-over the very large cracks between it and the pilots when it spoke about a possible new contract. And the charter business is going very well. Chartered 747-400F utilisation was up 51% in the last quarter; while a few contracts are set to end this year, most go into next year or 2023 – with some extended to 2024. And Atlas claims to have mastered the charter/ ACMI mix simultaneously – "bringing customers together to ensure maximising utilisation of the aircraft" – which makes it sound as if it's being paid twice for the same capacity.
Investors, no doubt, are delighted with Atlas's decision to take free money. But 2020 has put a different colour on corporate greed, especially in the face of rising poverty. Atlas seems to stand alone in failing to acknowledge the new reality, doing a disservice to other companies which are truly in need.
It has, essentially, failed to read the room.
You can see its full results here.