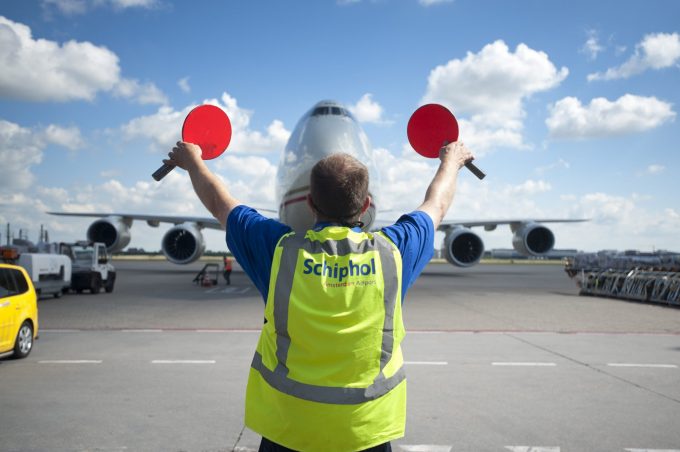 Amsterdam's Smart Cargo Mainport Programme (SCMP) is a massive undertaking to develop new ways to optimise cargo flows through the airport.
It comprises six broad tracks: infrastructure & capacity; logistics means; chain optimisation; digitalisation; compliance; and sustainability.
Each is set to spawn a number of projects and involves a lot of participants, from Amsterdam Airport Schiphol, Dutch Customs and port community service provider Cargonaut, Air Cargo Netherlands (which represents the different stakeholders across the air cargo community) and KLM, to academic institutions.
"We try to think how we as a community can work together; for example on issues like waiting times at handling facilities," said the head of airfreight for the Benelux countries of one large multinational forwarder. "This makes a big difference."
"Air Cargo Netherlands (ACN) embodies this spirit and supports the SCMP. It is an air cargo chain-wide industry association representing all parts, from handlers and forwarders to service providers. We try to bring everybody together to take innovative steps towards the future," said ACN director Maarten van As.
The association also represents the air cargo community in Amsterdam and acts as one voice in dealings with the authorities and the public. When the government started work on a new national aviation policy two years ago ACN was actively involved in the discussions. To support its case, it asked Erasmus University to create an air cargo monitor, which is updated annually, giving the latest figures on the size of the industry, its contribution to the Dutch economy, the number of jobs and other pertinent data.
"We co-operate and motivate each other to get things done. It's a Dutch thing," said Mr van As. Since 26% of the Netherlands is at or below sea level, and about two-thirds of the country vulnerable to flooding, the Dutch have a long history of working together to manage and strengthen the dykes that protect the land and its people. This has fostered a strong spirit of collaboration, he explained.
"Schiphol is really a community," said Jeroen Benda, director of IT of Cargonaut. There is a broad agreement that the community takes prevalence over individual gains, he added.
"Chain optimisation means consensus. Optimisation means the whole, not one part," he stressed.
"To a certain extent, we are competitors, but there is an understanding that we as a community – not only your competitors but also yourself – will do better if we work together," the forwarder executive said.
Edwin Wenink, programme manager of SCMP, emphasised the importance of building consensus. Creating broad endorsement may take longer, but it is the way to achieve lasting solutions that have broad benefit, he said.
"Within a community there are different interests. We try to get a balance between these interests and at the same time keep the programme going and make progress," commented Mr Wenink. "A lot of energy and effort goes into trying to find out about each other's problems and trying to find a solution where the pain and gain are spread."
This does not mean that no progress can be made before everybody is on board. To tackle inefficiencies in cargo pick-up and delivery, the community has started a milk run scheme, which has been embraced by some of the operators. They are trying to convince the sceptics with a physical demonstration that the concept works.
Many projects come up from the grassroots through the sector councils representing the various segments with the association. Like the airport authority, ACN is involved in most projects, working alongside participants from the sectors that are affected. In addition to finding a broad base for consensus, a major priority is to bring in specific knowledge, Mr van As said.
Also present in many projects are staff from Cargonaut. As the port community service provider, it is an indispensable part of most undertakings, but its strong involvement is also rooted in its culture.
"Community is in our DNA. Everything we do is focusing on making the community better, sharing data and supporting shared processes," said Frank Dekker, Cargonaut's community manager.
"If it weren't for the community there would be no Cargonaut. It has been the collaborative link between market and authorities for years," added Mr Benda. "And having Cargonaut makes the community stronger."
One recent project that illustrates the collaboration is the development of the Paperless Goods Tracking System, which was prompted by changes in European legislation. It covers the movement of goods between first and second line sheds at Schiphol. The new system allows the transfer of goods between parties without a flow of paperwork to customs at every step. This facilitates work for the companies involved and saves the customs agency time.
Forwarders and handlers got together with customs to tackle this. A special working group of 20 members was handling the project, meeting every two to three weeks to discuss progress and issues. Led by ACN, which took care of the protocol, they discussed what the process should look like, defined the messaging and at what time to send notifications, and Cargonaut orchestrated that the system was built around that, Mr Benda recalled.
"The big step is that the process has been defined," he added. "If a process is a bit more complex, then agreeing on the standard can be difficult."
"Collaboration has been key," remarked Mr Dekker. "For success it is necessary to have good, clear communication and clear agreements about roles," he emphasised.
This is one aspect that distinguishes good leadership, which is important for projects to succeed, he noted. "It is important that leaders always monitor progress and keep everyone inspired. The leader always has to let you see the bigger picture – what's the benefit, why are we doing this?" he said.
For a community to thrive its members must have a sense of involvement beyond individual projects, important as these are. ACN is playing an important part in fostering a sense of community, from creating a welcoming atmosphere for new members to organising social activities.
Cargonaut routinely goes beyond its role as port community service provider. Its building at Schiphol has a community space for members to use. The help desk often fields calls about issues that are not related to technology, Mr Benda reported.
"People call us because we know all the processes. Maybe we are not able to solve their question, but we know who they should ask," he said.
Looking to the future, ACN has set up a young professionals' network to draw them into the community. For one thing, this should help bridge the gap in approach that Mr van As has registered.
"Our generation tries to optimise processes. The young think differently. They try to skip part of the process and replace it with IT," he said.
Through their involvement in ACN and the SCMP, they will get ample experience in community building and the benefits for all involved that this generates.
This article was sponsored by Schiphol Cargo