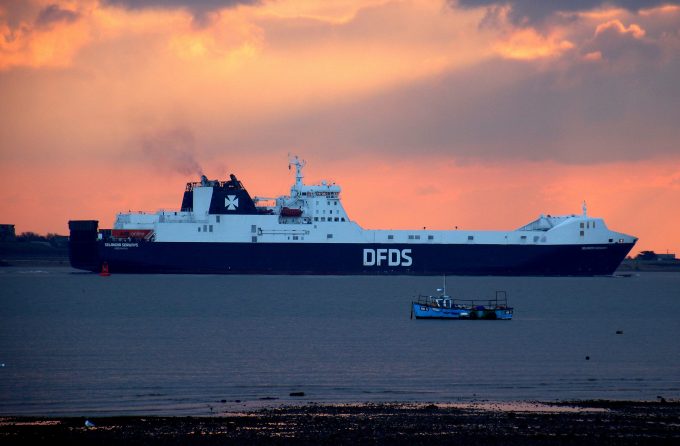 Following stronger-than-expected freight revenues in the first quarter, Danish ferry operator DFDS now expects full-year ebitda of Dkr3.2bn-Dkr3.6bn ($520m-$584m) based on a revenue growth of 20-25% over 2020.
Q1 showed a drop of just 1% in revenue, to Dkr3.8bn, despite the near-complete collapse of its passenger business due to coronavirus-related travel restrictions.
Passenger revenue was down 72% year on year, but freight turnover, which includes the group's logistics services, was up 5% to Dkr3.7bn.
Chief executive Torben Carlsen said that, while freight volumes between the UK and continental Europe showed a sharp drop in January, due to a sustained pre-Brexit inventory stockpiling, volumes recovered in February and March to above 2020 levels on both its North Sea and cross-Channel routes.
First-quarter volumes on Channel services were up 2.9% year on year, although this was due to the launch of new service between Ireland and Europe – without the new route, volumes would be down 2%.
However, he remained optimistic in the face of the increased competition it will face on the Channel later this year, when Irish Ferries launches a Dover-Calais service and P&O increases its capacity in the route with the addition of a fifth ship.
"We have a good relationship with our customers; there are relatively strong volumes, so we are quite comfortable with our position on the Channel," he said. "We think the forecast we have presented is solid, regardless of whether Irish Ferries begins operating or not."
Mr Carlsen also revealed that the proposed €296m deal to takeover Dutch cold chain specialist HSF Logistics had been delayed by competition regulators in Brussels, but remained confident approval would be given by July, rather than May as per the original deal schedule.
"We do not think there is any threat that regulators will not approve it – we have had no indications that they will not, and our lawyers do not believe it breaches any [market share] threshold.
"It's simply been a matter of finding the data requested by the EC – because there are no borders in Europe there is very little data about shipments moving between countries," he explained.
DFDS's logistics division posted a slight revenue growth, to Dkr1.4bn, and decreased volumes and higher costs associated with Brexit – however, its logistics division in the UK & Ireland saw a 13% growth in ebitda, largely due to new customs clearance operations.
"Since the referendum in 2016, a dark cloud has been hanging over DFDS and it's a huge relief that our preparations have paid off – Brexit is now behind us and DFDS is still here," Mr Carlsen said.
"As we expected, we had a lot of practical and technical issues in the first two months of the year, and some of these still persist. But trade continues with the zero-tariff agreement, even if transport has become more expensive.
"However, we don't think that if a transport cost – which pre-Brexit was 15% of the goods – rises by 15%, which would mean an increase of 2%-4% of the cost of goods, will fundamentally change trade flows.
"And after the past four months that has been confirmed by the market," he said.