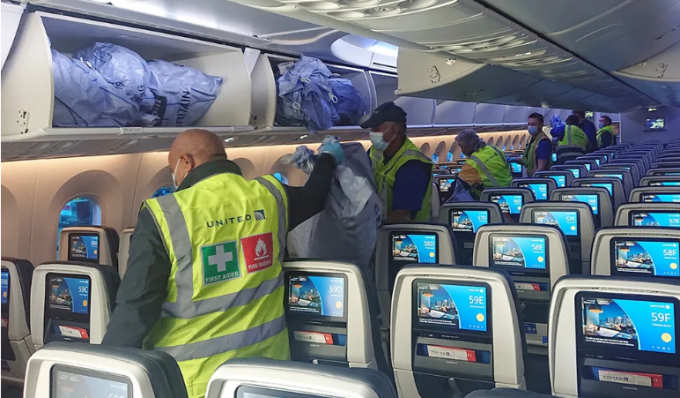 Like other international cargo airports, Rickenbacker in Ohio has clocked up an impressive increase in freighter landings, with Silkway West Airlines the latest all-cargo operator to launch regular flights.
And the all-cargo gateway of Columbus has seen a steady flow of passenger planes on cargo missions, handling its 500th 777-300ER passenger freighter from a pool of five different airlines on 1 April.
More and more forwarders have signed-up dedicated cargo flights to ensure sufficient capacity in key lanes. However, United Airlines, which has run more than 12,500 cargo flights to date, is not chasing this business.
"That's not for us, that's for freighters," said Jan Krems, president of cargo. "If we have extra capacity, we will sell it in the free market."
For the most part, cargo flights with passenger aircraft – with or without seats removed to use the cabin – have not been deployed to chase the juicy yields of ad hoc charters. To a large extent, they have been run on a more regular basis.
"We're not focusing on chartering," said Jason Berry, vice-president cargo at Air Canada, which has run some ad hoc flights, but in the main it has used cargo flights to run a regular schedule. The idea is to give customers consistency for their planning, he added.
This seems counter-intuitive, given the higher yields from ad hoc flights and the thin margins on passenger-freighters.
Mr Berry acknowledged that flights were constantly scrutinised to ensure they did not pile up additional costs, and for the airline they are meant to alleviate cash burn. And there are practical reasons for operating a schedule.
"Last-minute is costly to operate," Mr Krems noted, adding that time was necessary to ensure crews and planes were ready.
"It's a bit of a gamble," he admitted, saying that it is not always clear if there is going to be enough cargo to fill a return flight.
For the most part, scheduled cargo flights are profitable, said Stan Wraight, president & CEO of Strategic Aviation Solutions International. "The economics are there; there's pent-up demand and ocean has had a lot of problems. The yields and volumes pay for it."
But this does not apply everywhere. He said: "It depends on the route. On the North Atlantic, that's no problem for Air Canada. It has regular customers in both directions. Trade volumes are high."
Air Canada recently announced the launch of flights between Toronto and Basel. The pharmaceuticals traffic on the route makes it viable, Mr Wraight explained, adding that flying to Athens or Dubai on a regular basis would be more of a risk.
American Airlines has pursued both sides of the market, said Jessica Tyler, president cargo and vice-president operations innovation & delivery.
"We have a healthy balance of regular and ad hoc traffic. We're able to do ad hoc. We try to be as stable as possible with a bit of a longer-range view – a few months, not half a year. If you're too far on one side, you're not meeting the needs of customers."
For their part, many forwarders are not willing to commit too far ahead, given the volatility their customers are struggling with.
"It's very much ad hoc. We don't lock-in capacity beyond a week or two, unless it's on a freighter," said an executive of a large multinational forwarder. "It's week-to-week, in the best case month-to-month – especially with passenger charters."