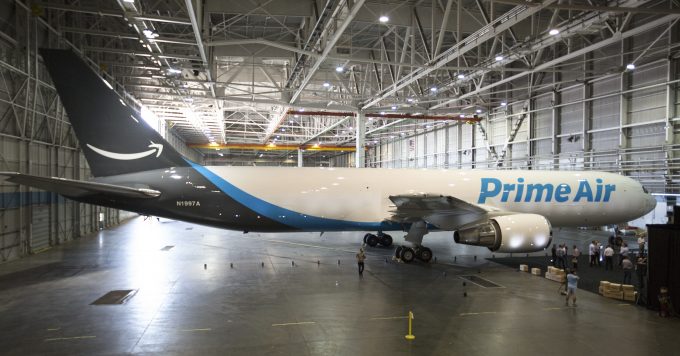 ATSG has pipped rivals to the post by acquiring 20 more 767-300 aircraft.
The aircraft type is in high demand by express operators, while the Amazon Air fleet now has 40 in operation.
While unconfirmed, it seems highly likely that ATSG will dedicate at least some of the 20 to Amazon.
The aircraft are currently operated by American Airlines (AA), and will transfer to ATSG over the next three years.
ATSG is set to convert six to freighters next year, nine in 2020 and at least five in 2021. Those not set to be converted immediately but which AA has sold could be used in the meantime in ATSG's Omni Air subsidiary, a passenger charter outfit.
The aircraft type is popular with many express operators, including SF Express, Cargojet and UPS. Since Amazon requested 40, on operating lease from ATSG and Atlas Air, there has been pressure on freighter lessors to find feedstock.
Amazon has clear plans to expand its air network and fleet. Earlier this month it announced it was to double its presence at Chicago Rockford, and build a regional hub at Fort Worth Alliance Airport, which will support "multiple" daily flights from the e-tailer.
Amazon could however face some backlash from its plans to increase its air network. A group of employee shareholders have requested a resolution that Amazon publish a report on its planning for disruption posted by climate change and how it will reduce its dependence on fossil fuels.
The shareholders wrote: "To limit warming to the safer levels governments committed to in the Paris Agreement, scientists estimate that the world can only burn a fifth of existing fossil fuel reserves. Multiple industries will have to modernise to meet this mandate. Coal still powers Amazon data centres. Diesel, gasoline and jet fuel still power package delivery."
Unless challenged the resolution will be presented at the company's next annual shareholder meeting in May.
Amazon said in a statement that it is "continuously working to optimise our transportation network and develop innovative technologies that lower our environmental impact".
But as some of its operations with the greatest environmental impacts are outsourced to airlines, it could well decide to put the green squeeze on its carrier partners ATSG and Atlas.