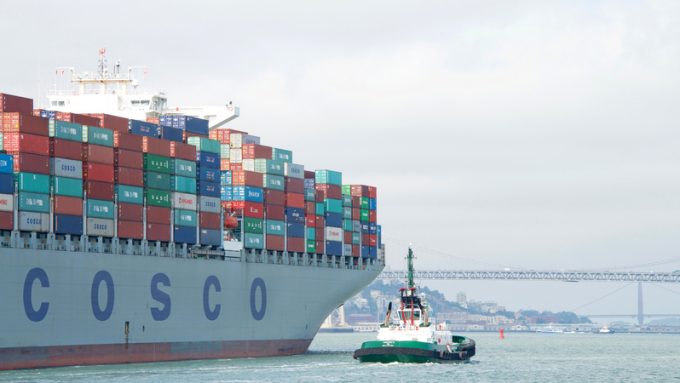 Container spot rates from Asia to the US, including space guarantees and equipment priority fees, have topped $4,000 per 40ft to the US west coast and $5,000 to the east coast.
Despite "guidance" by the Chinese Ministry of Transport and a warning by the US Federal Maritime Commission (FMC), several carriers have pushed ahead with their 15 September GRIs.
The FMC warned it may seek an injunction for a 'collusion' breach of the Shipping Act,
But, according to reports to The Loadstar, CMA CGM, MSC, ONE and Zim have maintained the full quantum of GRIs already been filed with the FMC.
However, China state-owned Cosco and its OOCL subsidiary cancelled their GRIs and Maersk, Evergreen and Hapag-Lloyd pared down their increases.
Cosco and OOCL also reinstated six blanked transpacific sailings for next month, heeding the 'suggestion' from China's ministry to inject more capacity onto the route.
Today's reading of the Shanghai Containerized Freight Index (SCFI) recorded a further $53 increase on the spot rate for the US west coast, to a new record of $3,867 per 40ft, a staggering 189% above the same week of last year.
And for US east coast ports, the SCFI recorded a further $100 jump to $4,634, double the rate of a year ago.
Moreover, with space "sold out" from most Asian ports to the US until at least the end of the month, and the availability at depots of containers still reported to be "very tight", shippers are being obliged to also pay carrier premium fees for equipment and space priority, ranging from $500 to $2,000 a box.
Meanwhile, the European components of the SCFI recorded a modest $27 uplift per teu for North Europe to $1,082 this week, which is, nevertheless, 69% higher than in the same week of 2019. Spot rates for Mediterranean ports increased $73 to $1,188 per teu, a 49% uplift on a year ago.
Martin Holst-Mikkelsen, head of ocean freight EMEA at Flexport, told The Loadstar: "The market remains very strong, and we are seeing a good amount of optimism from clients going into Q4."
He noted that carriers were extending their current FAK rates into October, in response to the Golden Week holiday in China, but he said Flexport was seeing "some upward pressure on rates into the UK, where demand is very strong".
He added that shortage of equipment "remains a major issue", but availability had improved out of Shanghai and Ningbo in the past week.
"We expect the factories to ramp up quickly after the holiday, with the booming orderbooks they are seeing," said Mr Holst-Mikkelsen.
Today's SCFI comprehensive index reading of 1,409.57 is a massive 91% higher than 12 months ago, reflecting the significant increases in spot rates across several tradelanes.
Indeed, spot rates from Asia to the west coast of South America spiked a further 26% this week, to $3,646 per teu, double the SCFI reading of a year ago.