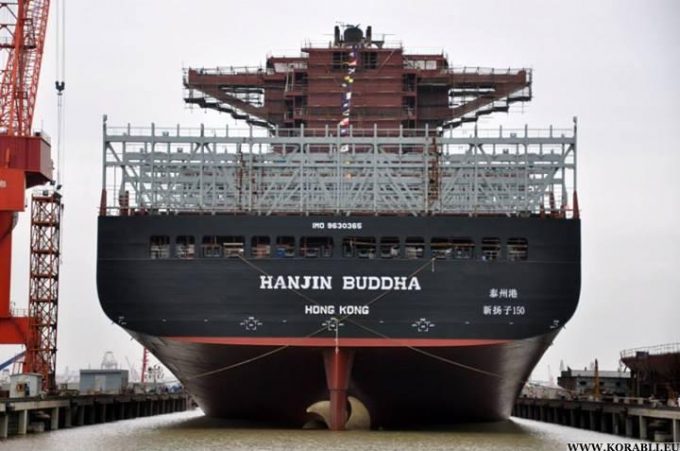 The Asia-Europe rate spike caused by the fallout from Hanjin appears to have come to an end after container spot prices tumbled 20% this week.
This was despite carrier attempts to impose mid-month rate increases and peak season surcharges.
However, on the transpacific trade, where Hanjin had a bigger market share, of around 7%, carriers held onto their gains.
The Shanghai-North Europe component of the Shanghai Containerized Freight Index (SCFI) recorded a 20.9% drop, to $764 per teu, while for Mediterranean ports container shipping rates were down by 22.4% on the week to $667 per teu.
The sudden collapse of Hanjin, after the carrier entered receivership on 31 August, caused the North Europe leg to leap by 36.5% on 2 September, as shippers scrambled to book alternative space.
However, analysts argued that once the dust had settled the spike would be short-lived, given that the route was previously plagued by chronic overcapacity, with Hanjin's 3% market share "easily replaced".
Indeed, according to UK-based 3PL Ligentia, the spot rate rise following the Hanjin collapse was "based on both perceived and actual space shortages".
Ligentia said that by taking full advantage of the fallout from the Hanjin situation, the rate hikes were "perhaps a predictable move by the carriers who may see the next few weeks as the last opportunity to raise additional revenue before demand falls in the late autumn".
Notwithstanding the expected continued volatility of Asia-Europe spot rates, the most important challenge for carriers on the troubled route is to lay strong foundations for forthcoming annual contract negotiations.
In this respect, sources have told The Loadstar that shippers will be more selective in their carrier partnerships than hitherto, and that there will in the future be greater due diligence and focus on the financial reports of shipping lines.
Indeed, rumours persist in the market of a second carrier being on the verge of bankruptcy, after the too-big-to-fail bubble was finally burst by Hanjin. This change in sentiment will work in the favour of carriers with more robust balance sheets and likely give them a stronger hand in the annual contract rate negotiations.
Meanwhile, Asia-US spot rates on the SCFI were virtually unchanged from last week, at $1,726 per 40ft for the west coast and $2,433 per 40ft for east coast ports, reflecting the stronger market and the greater impact from the Hanjin bankruptcy.
According to Alphaliner data, the total capacity of extra loaders deployed to mitigate the impact of Hanjin's exit equates to 56,000 teu, compared with the South Korean carrier's monthly average capacity of 85,000 teu.
Transpacific spot rates spiked by over 50% after the Hanjin crash, but online freight market platform Freightos remains unconvinced that the carriers can make the price hikes stick beyond November.
Freightos chief executive and founder Zvi Schreiber said: "The only certainty is volatility. Hanjin's bankruptcy only reiterates the extent of supply available in the industry – about 10% of the industry's capacity is unused, despite Hanjin's collapse and the peak holiday season."