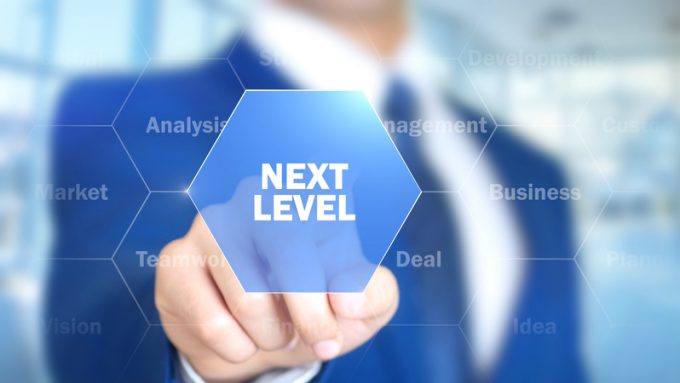 Mark 22 October on your calendar: Kuehne + Nagel (K+N) opens the earnings season for freight forwarders with its third-quarter (Q3) and nine-month (9M) results.
For the first time since I have started coverage, it won't be preceded by its smaller domestic rival, Panalpina – which is now owned by DSV, whose trading update is due on 1 November – so it will set the tone for all others.
Lucky K+N? Maybe.
K+N vs DSV?
Since late June the stock market performance of K+N has been egregious, given market conditions, with its shares notably trading in line with DSV Panalpina, although its now more similar rival in size and value, has shelled out top dollar in buybacks, while K+N hasn't.
Shrinking the share count is not something K+N and its owner, Klaus-Michael Kuehne, are accustomed to. Such a capital deployment tool is treated as inferior against dividends – naturally, different shareholding structures and corporate missions play a part.
For comparable purposes, consider that their projected yields differ greatly: K+N's 4.1% 2019e yield is significantly higher than DSV PAN's estimated 1% or so.
But there is more than K+N versus DSV embedded in this story.
Kuehne versus Kuehne
With no real fillip from the virtually inexistent peak season, as expected, air and ocean freight volumes are unlikely to bring upside relief for the three months ended 30 September.
Notably, its main financials will be disclosed at a time when K+N is busy with a soft internal reshuffle driven by a leaner corporate structure focused on belt-tightening and managing clients' expectations (click here for the top background stories), which are all crucial aspects on the road to value.
While K+N versus DSV Panalpina is essentially yield versus growth for investors, the spotlight now is on K+N (2019) versus K+N (2018).
Or, more appropriately perhaps – given the credentials and organic growth preferences of the extraordinary businessman in charge, who will ultimately decide the shape of group – it is Klaus-Michael Kuehne versus Klaus-Michael Kuehne.
Numbers
Frankly, Q1 and Q2 trends (click here and here) weren't particularly hard to predict in its two core units, but worth some consideration is that Q3 18 was the best ever for ocean volumes at the time, while quarterly air volumes were very close to record highs one year ago.
Comparable volumes are challenging later this month, but ocean is unlikely to be a disappointment, although almost certainly there would be a lot of damage limitation in air. Remember: this could be a landmark year for K+N on the road to over Sfr1bn in ebit.
Incidentally, as always at group level, it boils down to how much K+N makes in net earnings per share.
The comparable earnings per share (EPS) numbers in Q3 and in the nine months of 2018 (9M 18) are Sfr1.58 and Sfr4.82, up respectively 3.3% and 7.3% against comparable numbers in 2017, on a fully diluted basis – of course, its two core business lines will play a key role in beating expectations, if that's the outcome.
It's not exactly mission impossible, so let's start from volumes.
Given ocean Q3 18 numbers and Q2/Q3 19 trends, even a 5% increase in volumes against one year earlier, would mean a record quarterly reading of nearly 1.3m teu. It could be higher, but if so profitability might take a hit.
Meanwhile, if we pencil in only a 5% drop in air volumes we are likely generous, but let's say it's a fair estimate and 417,000 tonnes is our best-case scenario, with flattish 402,000 tonnes quarter-on-quarter as a base-case.
For comparable purposes, the latest volumes developments are shown in the table below.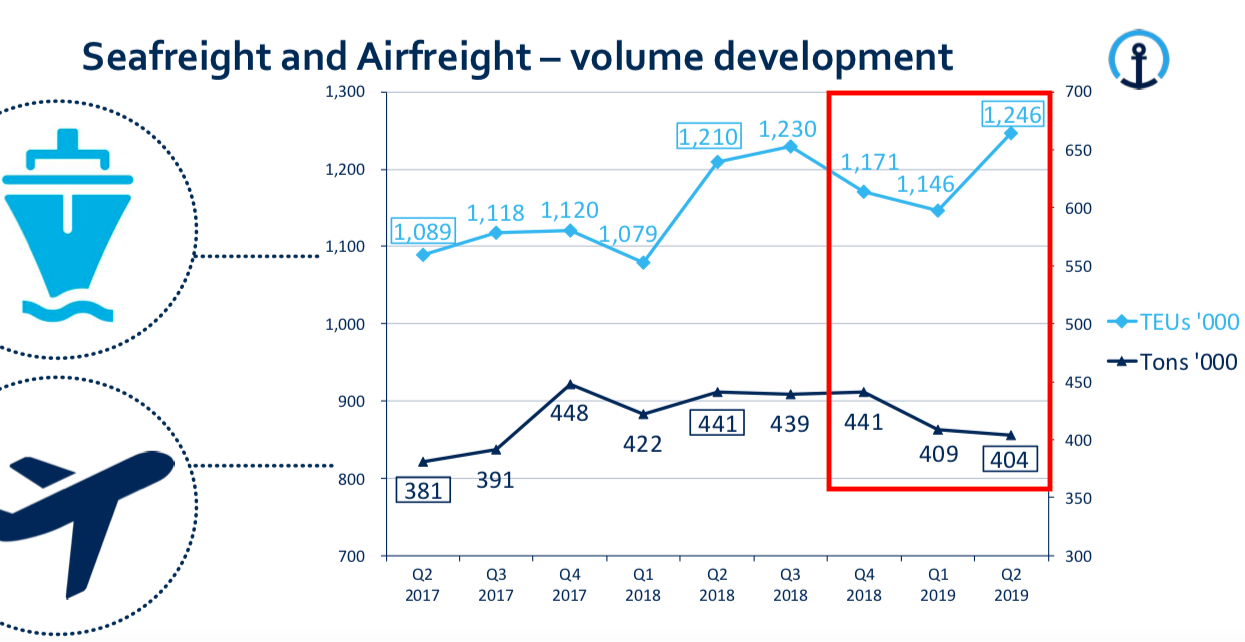 Given the typical ebit/teu ratio in Q3 in previous years, and fully aware of its conversion rate (ebit/GP) trends in the past few quarters, unit ebit ranging between Sfr117m and $Sfr125m is possible (Q1: Sfr112m; Q2: Sfr123m). Top end perhaps, we derive a 9M 19 ocean ebit of up to Sfr360m.
Then, to the air freight trade.
Ebit/tonnes patterns, mixed conversion rates and a fillip to profitability from the consolidation of Quick International Courier, suggest that Sfr93m (Q1: Sfr80m; Q2: Sfr94m) could be a rather bullish ebit estimate; let's go with Sfr88m, excluding the added M&A volumes from contracts it acquired recently (17,000 tonnes per year). Top end, we derive a 9M ebit of Sfr262m in air which could easily be a base-case, albeit a bit bullish perhaps as volumes could be 300/500 basis points lower (as you might know, it is rumoured to have lost a key client in Asia, for instance).
That said, I would be very surprised if the two units combined in the first nine months had generated significantly more/less than Sfr622m of ebit.
Meanwhile, road and contract logistics have been more volatile but if we ascribe, respectively, Sfr23m and Sfr30m to the two units in terms of quarterly operating income, their combined nine-month ebit hovers around Sfr155m.
Ding: Sfr1bn of annual ebit is within reach, if my projections are right and all hell doesn't break loose in Q4.
Which means that, assuming Sfr181m to be paid to the taxman and other minor adjustments (so-called "financial income/expenses") before deriving net earnings to the end of September, its diluted 9M 19 EPS comes in at Sfr4.93, up 2% against 9M 18.
It doesn't look great, growth-wise. Implicitly though, it confirms consensus EPS for the year, according to S&P Global Market Intelligence, of Sfr6.57 per share, and a lofty forward price-to-earnings multiple of 22x.
Do you smell downside? Are investors betting on something we don't know about K+N? And what does Mr Kuehne do to keep at bay its new larger rival lurking in its backyard now?
The combined volumes of DSV and Panalpina point to a head-to-head race in air (K+N still ranks second, just), while K+N remains the global leader in ocean – but for how long in this Viking Ironclad Age?
The battlefield will be contract logistics and road, where DSV might up the ante in the M&A game in 12-18 months' time, judging by the latest remarks of its new chairman and its organic investment push in warehousing.
While betting on what could be next for K+N might hinge on DB Schenker's overland plan – if DB Schenker + Ceva in road makes sense, what about a K+N + Ceva road tie-up? – its own strategy push is at least partly a direct function, I reckon, of the speed at which the future plans of the Danish company are implemented and Panalpina is fully integrated.
Now it is all about air/ocean freight forwarding, as other peripheral assets for both are considered ancillary (less so for K+N), to a major extent. But what is ancillary today could move the needle tomorrow, or anyway before Mr Kuehne waves goodbye to all and quietly retires. Don't bet on that.