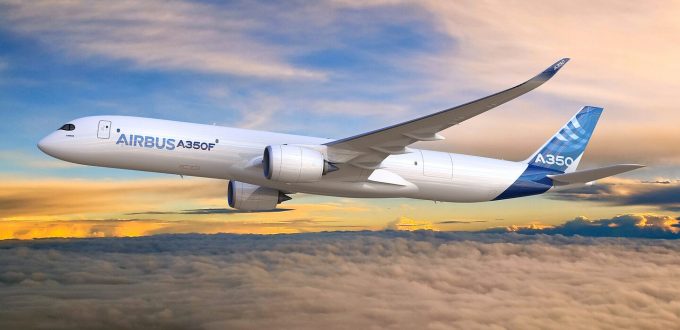 It's been a good week for Airbus as it fights for a foothold in the freighter market: after what appeared to be long negotiations, Etihad has signed a letter of intent for seven A350 freighters and Singapore Airlines (SIA) has finalised its order, also for seven A350Fs.
Etihad has been looking at expanding its freighter fleet – along with many rivals – in the past few months. It shrank its passenger fleet as the pandemic hit, from about 70 widebodies to 45, but hopes to rebuild the fleet back to 80 within five years with the A350, of which it currently has five passenger aircraft alongside five 777 freighters.
Labelling the A350 "remarkable", Tony Douglas, group CEO of Etihad, said: "As our cargo operations continue to overperform and we work towards a more sustainable future built upon the world's youngest and most fuel-efficient fleet. The addition of the A350F will play a key role in driving our long-term cargo strategy and achieving our 2035 target to reduce CO₂ emissions by 50%."
Airbus repaid the compliment, calling Etihad "a most discerning airline", which had picked a "game-changing" aircraft.
At the end of last year, Martin Drew, SVP sales and cargo for Etihad, told The Loadstar the carrier's board had "an appetite to grow its cargo side".
Carriers have increasingly signed long-term charter deals, a new attraction for forwarders, adding further demand for freighter capacity and Etihad has also signed up with technology company Speedcargo, which uses AI to measure cargo dimensions and optimise space planning, a move it claimed could give it extra capacity of 3,000 tonnes a year with no fleet changes.
SIA, meanwhile, is the world's largest A350 operator with 55 passenger aircraft, and plans to use A350Fs to replace its 747-400F fleet, starting in the fourth quarter of 2025. It currently operates six 747-400Fs, all of which delivered in 2018 and are between 16 and 21 years old.
CEO Goh Choon Phong said the order "underscores the importance of the cargo market to the SIA group" and added: "The introduction of the A350F will enhance our capabilities in this key sector, ensuring that we are ready for the growth opportunities that will arise in the coming years.
"These new-generation aircraft will substantially increase our operating efficiencies and reduce our fuel burn, making an important contribution towards the success of our long-term decarbonisation goals."
Airbus claims the A350F has a 30-tonne lighter take-off weight than its rival, the 777F, with 20% lower fuel consumption. So far, 29 have been ordered by five customers.
Airbus said: "The A350F meets the imminent wave of large freighter replacements and the evolving environmental requirements, shaping the future of air freight."
Airbus is also enjoying heightened interest in the conversions market. Elbe Flugzeugwerke (EFW) received an order today for six A321 conversions from SmartLynx, an ACMI operator, scheduled for this year and next, at ST Engineering's site in Singapore and China.
The same facility, along with one in Mobile, Alabama, will also convert 12 A330s following an order from EFW for lessor CDB Aviation. CDB said it had lease commitments from Sichuan Airlines and Jiangxi Cargo Airlines. It is its first foray into freighters.
The ongoing demand for freighters, and falling demand for passenger aircraft, has seen a boom in conversions and EFW said that, together with ST Engineering, it was "in the process of ramping up conversion capacity" in order to meet  this rising demand.