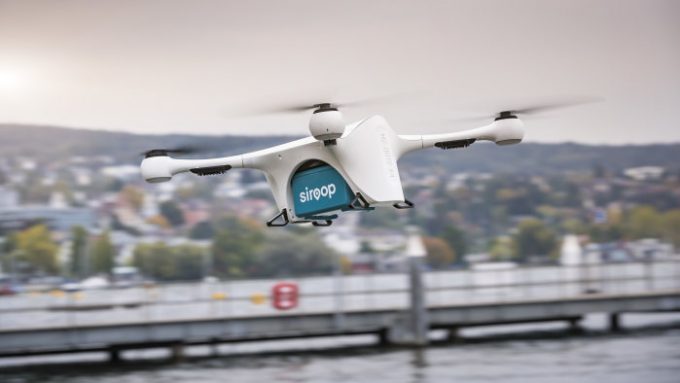 The deployment of drone technology in retail supply chains took a major step forward this week after a new pilot project to deliver e-commerce goods in the Swiss city of Zurich.
Mercedes-Benz, Swiss e-commerce platform Siroop and US drone developer Matternet yesterday announced the three-week trial of a same-day delivery service.
Drones will deliver goods weighing up to 2kg to a landing platform on courier van roofs, and the vehicles then make the final delivery to consumers.
Matternet founder and chief executive Andreas Raptopoulos said: "We believe that drone-enabled logistics networks will transform how we access goods every day.
"We will be able to order something online and, like magic, receive it within minutes for a fraction of the cost and energy expended today.
"Switzerland is at the forefront of this technological revolution — this is the first time that a drone delivery network is operating in a major European city and the first time a van and drone network is operating anywhere in the world.
"We hope that this pilot will give us greater understanding of how the public perceives a drone-enabled solution for e-commerce and pave the way toward extensive use of these systems," he continued.
Consumers place orders for goods in the Siroop marketplace, and the merchant then loads the goods onto the drone. The drones fly to one of two Mercedes Vito vans equipped with a precision landing technology parked one of four pre-defined rendezvous points.
After the van driver takes possession of the product, the drone returns to the retailer.
Head of future transportation at Mercedes-Benz Vans Stefan Maurer said: "The pilot project affords us the possibility to test our concept. We want to gain valuable insights for this and further concepts enabled through van and drone technology. We have the great opportunity here to conduct the most extensive testing in an urban environment to date. Validating our concept together with customers and project partners in an early phase will greatly advance the development."
The drones will be among the first in the world to fly beyond the line of sight of the operator, and the service has been authorised by Swiss civil aviation authorities.
The drones fly in the same part of lower airspace reserved for emergency helicopters and "are equipped with a parachute system that is automatically deployed in case of a malfunction".
While Matternet and Mercedes-Benz have been developing the project for a couple of years, it has now brought in a customer in Siroop.
Peter Rohn, chief operating office of Siroop, said: "Speed, flexibility and efficiency are key factors for our business. The pilot project allows us to further optimise the connection between our retailers and customers, and we fulfil the wishes of our customers for fast and flexible delivery.
"We are creating real added value for both sides and as a result get the chance to acquire more customers and retailers for our platform. It is especially of interest to us to test the customer need for drone deliveries and find out more precisely what products and collections are particularly suited to them."