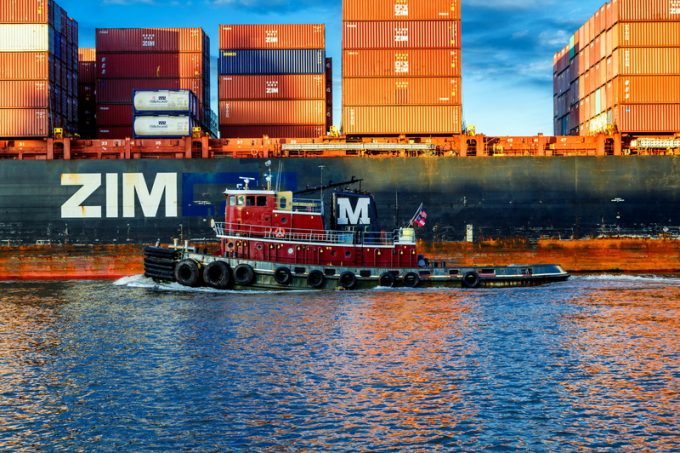 Zim is extending its footprint in the fast shipping lane between Asia and North America.
By the end of the month, the carrier intends to start an expedited transpacific service from Taiwan and China to California.
It will deploy vessels with about 4,250 teu capacity on a weekly run from Kaohsiung, via Ningbo and Shanghai, to Oakland and Los Angeles.
And it marks the carrier's third expedited transpacific operation since the launch of a service from Asia to Los Angeles last June and February's string from South-east Asia to Los Angeles and Tacoma.
Meanwhile, other players have also identified expedited transpacific services as a promising strategy: in late November, CMA CGM launched an offering from Ningbo and Yantian to LA with a 12-day transit from Yantian, featuring guaranteed space, priority container discharge and availability within 24 hours of unloading.
Zim is targeting traffic that would have gone by air, before the pandemic decimated available lift and sent airfreight rates sky-high – e-commerce is a particular target.
According to some NVOs, existing services have been hampered by the congestion at west coast ports, notably at LA and Long Beach, which has undermined transit times. Apparently, Zim seeks to miss these problems by routing its new sailing to Oakland, prior to calling at LA.
For Oakland, this is the second direct sailing from Asia launched this year, after CMA CGM's Golden Gate Bridge service from Shanghai, Yantian and Kaohsiung in mid-February.
After a 12% decline in import volumes in January, which management attributed to the congestion at LA/LB that caused delays and some cancelled calls,  Oakland has recorded strong growth in imports. They surged 26.2%, year on year, in February and accelerated the following month to end up 45% more than  March 2020. And exports advanced 12% last month to a new record for March at Oakland.
The port has geared up for a more prominent role in transpacific trade. Last month it brought in three large cranes for ultra-large container vessels. According to Stevedoring Services of America, which operates the port's International Container Terminal, they have a lift height of 174ft above the dock and can reach 225ft across a ship's deck.
Oakland is expecting the current momentum to continue. Maritime director Bryan Brandes said: "Ships are full, ocean freight rates are sky high and the need for empty containers to ship more cargo is never-ending. We just don't see conditions easing in the next several months."