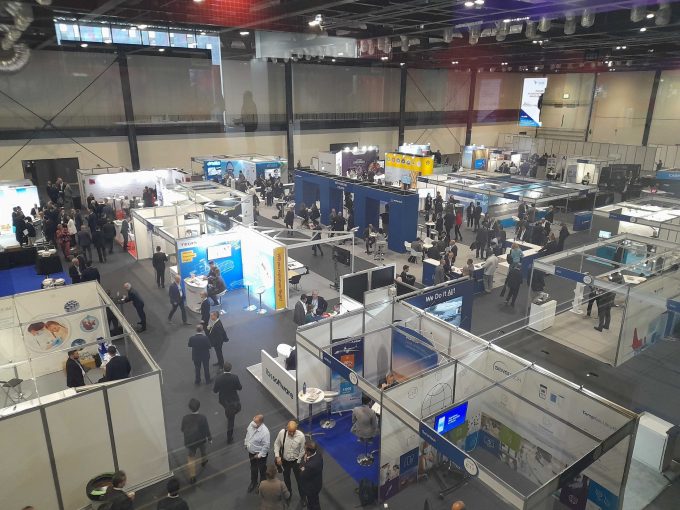 The Buddenbrooks effect, outlined in the eponymous 1901 novel by Germany's Thomas Mann, describes how successive generations in a family experience a gradual decline in finances, ideals and happiness from a wealthy peak, as societal values change and family business hierarchies are replaced by industrialisation.
IATA this week hosted its biggest-ever WCS, with some 1,350 delegates from 73 countries attending. Ticket prices were high, there were more stands and sponsors than usual: revenues were presumably also at record levels.
And costs appeared to be at record lows. The brutal Excel centre, on the outskirts of east London and hosting several other events at the same time, including an e-commerce expo, at least revealed how other industries deal with their shows: there were carpets, and good lighting; there were young people and women; there was energy and verve.
Not at the air cargo end of the site, though.
Carpet-less and dark, it was like doing business in a Kwik Fit tyre centre. And it feels like the start of a steady decline for IATA, the beginning of its very own Buddenbrooks effect.
On the southern side of the Thames, at the O2 Intercontinental Hotel, there was another easy comparison: Gartner was holding its annual supply chain symposium, where the brightest and best showcased their tech talents. There, Project44, a real-time visibility unicorn, unveiled its single, multimodal platform, which CEO Jett McCandless said had been his vision for 20 years – a clear cube of supply chain data that all stakeholders can see into.
"Just think of the power of that," he said. "It's never been done before."
Not only was leading-edge technology on show, but Gartner puts on a slick event. The journey in London's cable car back to the air cargo Kwik Fit centre felt like going back in time.
Of course, it isn't all about how shiny a show is, but it's certainly a good metaphor. But, sadly, IATA is lacking in many other ways.
There is tension among many air cargo stakeholders about IATA and its role. The Air Cargo Handling Logistics event (ACHL) event in Athens earlier this month revealed a hotbed of discontent.
There was talk of a major forwarder angrily leaving IATA's time and temperature taskforce over issues which IATA failed to address. There was disaffection at IATA's prices. There were accusations that IATA's various committees were driven by the sole commercial interests of a handful of members, at the expense of the wider good. Airline customers decried CEIV certification, claiming airlines only allowed certain parts of their processes to be reviewed, making the whole scheme somewhat useless.  There was much talk of bypassing IATA entirely, with companies working together on projects without the association's 'help'.
And then there is CASS, IATA's payment platform, which has been depicted as out-of-date, no longer functioning in a way that benefits the users – now only really benefiting IATA's data sales.
When IATA fell out with payment contender PayCargo, it did see the value in updating its system to be able to compete, and hired IBS to develop CASS 2.0. But some claim IATA got rid of any expertise it had in CASS, which has made it vastly more difficult to modernise. As one observer wryly put it: "IATA should have kept PayCargo close, and then stabbed it in the back – that's what the old IATA would have done."
To be fair, the old IATA also made mistakes. But one theory behind the recent decline of the association is that Willie Walsh, the director general, in fact has very little respect for the organisation.
As head of British Airways, he could not get help from IATA for his big – but essentially local – issues. He didn't see its value then, and doesn't now. Previous DG Alexandre de Juniac announced he was expanding its Montreal operation in 2018. Mr Walsh, just three years later, tried to close it down, a move reportedly disliked by Canada that resulted in IATA just "significantly reducing" its presence there.
Back at WCS, meanwhile, the cry "Where's Willie?" went up. Despite all the talk in conference sessions about how cargo now has a place in boardrooms, that doesn't appear to be true at IATA. Yes, he was at another event briefly, but could easily have popped in at some point over the four-day WCS.
This lack of interest in, or perhaps support for, cargo appears to have extended to the IATA cargo team. Brendan Sullivan, head of cargo, is rarely seen out and about, apparently on a short leash 'in the interests of cost' – an odd decision for an association whose revenues are thought to be something in the realm of $250m a year, much of which comes from cargo. Surely, his presence at events is an easy way to show that IATA cares; is listening; will help.
Mr Sullivan's stated priorities are good ones. He has emphasised safety and security, in particular where lithium batteries are concerned, a key issue for airlines. He has expressed a focus on sustainability, digitalisation and attracting talent to the industry, all of which is much needed. The industry clearly needs modernising, and now.
But much like the claims that cargo is now in the boardroom, the talk of attracting new talent didn't appear to be borne out by the choice of speakers at the WCS. Fewer than 18% were women, which feels like a step back from previous events. IATA's '25 by 2025′ strategy, which includes a pledge to increase the number of women participating at events to a minimum of 25%, is a very low target – and one it has, inexplicably, failed to achieve here.
On the upside, there was good content, and it's always better to see people face to face, even at the Excel centre. But IATA itself feels increasingly irrelevant. The question is whether it can stem its decline, re-discover its value and face up to the modernisation challenge.
Can it find success where the Buddenbrooks dynasty found only failure?