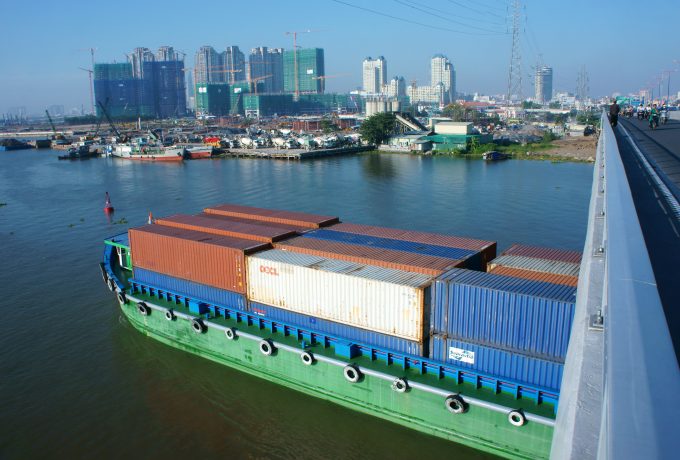 Like many container terminal operators in Asia and Europe, the major players in Vietnam face some uncertainty as a consequence of the new network plans of two rejigged alliance groupings, but will also be challenged by the country's astonishing export growth.
Container throughput at Vietnamese ports grew by 8.1% in the first three months of this year, compared with 2015, to 2.5m teu.
Moreover, the signing of a free-trade agreement with the European Union in December will considerably improve market access to the member states when tariffs are dismantled after ratification.
In 2015 the EU jumped to become the third-ranked FDI (foreign direct investment) partner for Vietnam, behind the other ASEAN bloc states and South Korea.
Trade with the EU soared to $1.55bn from $587m the year before, as Vietnam's mobile phones, electronic products, clothing, footwear and coffee became in demand in European stores.
Meanwhile, Vietnam has overtaken its ASEAN partners to become the region's biggest exporter to the US and has attracted investment from the likes of Samsung, Nike, Adidas and Timberland, due to low and stable labour costs in comparison with China's continued cost escalation.
Most European and US export containers are loaded at the deepwater Cai Mep terminals, where throughput increased 38%, year on year, in Q1, to 417,000 teu. More than half of these boxes were handled at the APM Terminals 49% joint-venture facility, Cai Mep International Terminal (CMIT).
CMIT's throughput soared 131% in Q1, over Q1 15, to 277,000 tea, and this followed 80% year-on-year growth in 2015. The successful bid for a further Ocean 3 alliance loop in October and winning a CKYHE string in April are behind the impressive growth.
Robert Hambleton, managing director at CMIT, is confident its navigational benefits over neighbouring terminals (at a maximum alongside depth of 16.5m, it has a 1.5m advantage) will ensure that CMIT is in a good position going into negotiations with the Ocean Alliance and THE Alliance carriers and in its continued discussions with the 2M partners, Maersk Line and MSC.
But Mr Hambleton is not taking anything for granted. During a recent visit to London he told The Loadstar he was ready for talks with carriers "at a moment's notice" to "discuss new opportunities for CMIT".
CMIT has already successfully handled ultra-large container vessels in excess of 14,000 teu, including the 14,074 teu CSCL Star (operating on the O3 FAL23 service) and the 14,080 teu YM Warmth (deployed on CKYHE's NE2 loop). Nevertheless, with a quay length of 600m, CMIT is unable to accommodate two ULCVs simultaneously.
Would CMIT consider a co-operation agreement with terminal rivals to offer unrestricted windows to the alliances?
"It's a possibility," said Mr Hambleton.