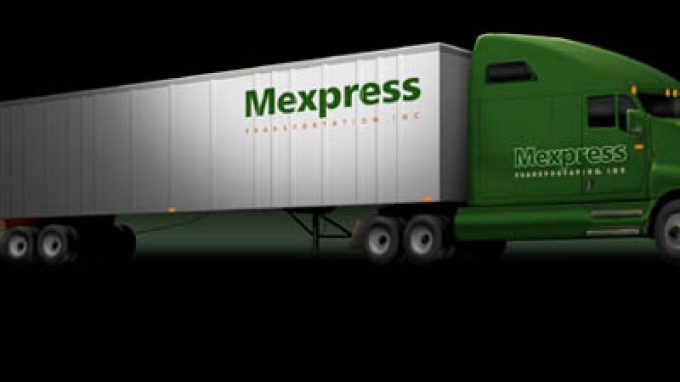 E-commerce is spilling over into the air cargo road feeder service segment. Mexpress Transportation, which runs an expedited airfreight trucking operation across the US-Mexico border, is about to add a small parcel service to its offering, complete with final-mile delivery.
"We were getting a lot of requests to move pallets to Mexico from customers looking for solutions for the final-mile delivery, not just to the airport," said Mexpress president Carlos Duron.
The company has carved out a niche by offering a transborder airfreight trucking service where the goods are moved in bond, which allows for clearance at the destination airport and avoids lengthy waiting times for clearance at the border.
To obtain the necessary permits, Mexpress management had waged a lengthy campaign and enlisted the support of the local maquiladora association.
The company offers a "virtual second-day air service" with transit times of 48 hours from Los Angeles to Guadalajara and from Dallas Fort Worth to Mexico City. According to Mike Gamel, chairman and head of sales, this is also faster than flying directly into Mexico City, given bottlenecks at customs and airport access in the Mexican capital.
Due to the chronic congestion in the city, trucks are banned from entering the airport on weekdays from 1-8pm.
To cover the final leg, Mexpress has teamed up with a Mexican parcel delivery firm, and has linked their IT systems for end-to-end tracking, which enables Mexpress' customers to see proof of delivery via the trucker's system.
"The customer deals with one company, us. We pay for the tracking, duties and handling charges at the airport in Mexico," said Mr Duron.
Mexpress is set to launch its parcel service on 2 May. Like its airfreight traffic, parcels will be moved as one unit to the destination airport, where the trucker breaks down the ULD and hands the parcels to its Mexican partner, who performs the clearance and then delivers them to Mexican consumers.
According to Mr Duron, shipments arrive at the destination airport on the second morning, are cleared the same day and put into the parcel firm's network for delivery within two days, depending on final destination.
He said that this was three or four days faster than clearing parcel shipments at the border and significantly cheaper than direct services offered by integrators.
Returns will be consolidated on the Mexican side and moved north across the border, once enough volume has accumulated to fill a pallet or container.
"Unless we are otherwise instructed, we will not ship individual parcels back. It's much cheaper in consolidations," said Mr Duron.
Initiall,y all parcel shipments will be moved to Mexico City, but the partners are looking to add other transfer points at a later date. This would not only speed up transit times but also bring down costs, owing to shorter legs for the domestic delivery.
Mexpress currently runs less-than-truckload service to four Mexican destinations – Guadalaraja, Mexico City, Monterrey and Queretaro – and full truckload service to 11 other airports, many of which came into the picture over the past two years. Many of the smaller airports lack the facilities to handle air cargo, according to Mr Gamel.