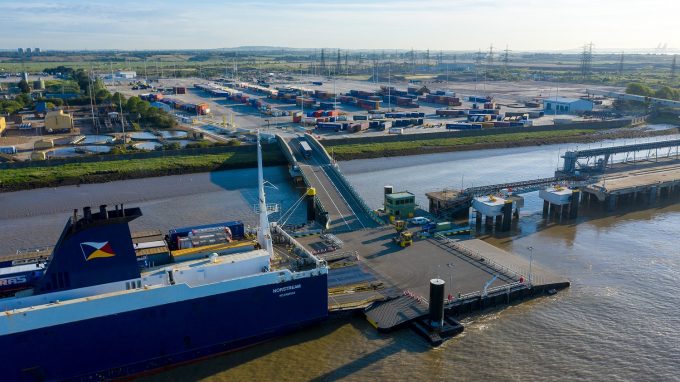 Port of Tilbury owner Forth Ports said there were clear signs that cross-Channel sea freight was increasingly moving to unaccompanied shipping options, as shippers and their forwarders seek greater supply chain resilience.
The company reported it had seen a 20% year-on-year increase in unaccompanied freight volumes between Tilbury and Zeebrugge in December through its recently opened Tilbury2 terminal, leading P&O Ferries to add an additional vessel to cope with the higher demand.
Over the six months the terminal has been operating, Tilbury has seen a 7% growth in traffic, year on year.
Charles Hammond, chief executive of Forth Ports Group, said: "Supply chains are realigning as they seek greater resilience and a low-carbon route close to market, and our ports are ideally placed to support through our recent £260m investment in infrastructure, market leading turnaround times and capacity for growth.
"The coronavirus pandemic has brought the UK's vulnerabilities to the fore. However, breakdown presents an opportunity for breakthrough to create a more resilient UK.
"Breakdown of production lines, unpredictable industrial relations and increasing pan-European lorry driver shortages have led many in the logistics industry to examine the reliability of their delivery options," he added, noting how ferry companies' business models had been trashed by the pandemic.
"With passengers largely disappearing from ferries across the North Sea, the Channel and Irish Sea, the coronavirus epidemic has completely changed the dynamics of the logistics industry. In the absence of a cross-subsidy from passenger to freight units, greater exposure of the true end-to-end cost of moving goods is emerging," said Mr Hammond.
"Combine this with the need to abate climate change, reduce road congestion, tackle poor air quality and level-up the economies of the regions, the momentum for change is growing.
"By bringing goods closer to the point of consumption or production, we could and should see new ferry and container shipping routes springing up.
"Combine this positive with the greater use of rail for inward distribution, unaccompanied freight is the answer to a number of the questions of our time," he said.
Tilbury2 is also one of the key planks in the joint bid – which also includes DP World London Gateway, Port of London Authority and US carmaker Ford, which operates a production facility in nearby Dagenham – to create a Thames freeport in the area.
The prospective partners today released their vision of the freeport, which claims it could create tens of thousands of jobs in the Thurrock area, with a massive investment plan for Ford, utilising the combined port facilities of London Gateway and Tilbury.
"Initial modelling suggests a freeport will unlock more than 20,000 new, better-paid jobs, and many more through local supply chains, while securing over £400m in port infrastructure, which will lead to a doubling of port capacity," the document says.
"A Thames freeport will be a magnet for new investment, jobs, skills development and the adoption of greener technology. This will drive innovation and transformational productivity gains by turbocharging regional clusters in next generation logistics, automation, clean energy, and advanced manufacturing centred around two global hubs – London Gateway and Tilbury – supporting regeneration in Thurrock and economic growth across the Thames estuary.
"For example, Ford plans to build on its advanced technology capabilities to electrify, connect and automate vehicle solutions in and around the freeport to reduce pollution and ease congestion.
"With almost 1,000 acres of land ready for development – much with planning consent secured – no other port cluster in the south of England can come close to matching our offer to deliver meaningful economic change and linked community benefits in the lifetime of this parliament," it adds.
The UK government's deadline for freeport submissions is 5 February.