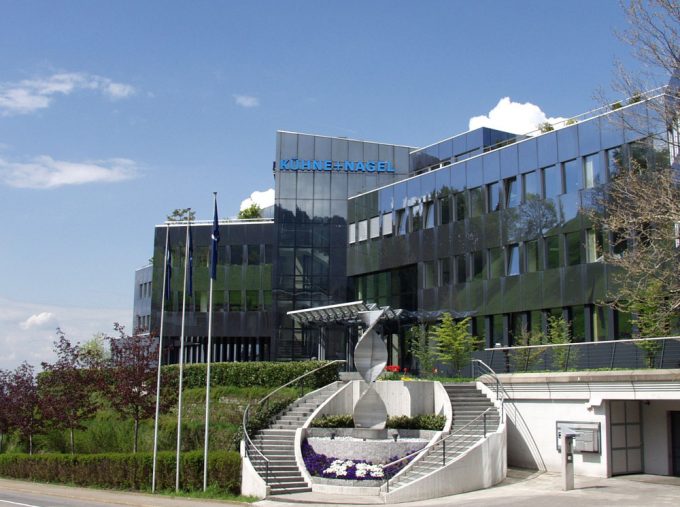 Kuehne + Nagel today reported reduced turnover and profits for the first nine months of the year, as it struggled to limit the effects of the coronavirus pandemic.
However, it did report year-on-year ebitda growth for both the nine-month and third-quarter periods.
The latter grew from Sfr472m ($520m) in 2019 to Sfr900m this year, but group revenue for the quarter was down 4%, to just over Sfr5bn, while nine-month group revenue declined 6.3% to Sfr14.8bn.
The group's ocean freight arm saw a 8.3% decline in turnover and a 14.8% decline in ebit for the nine-month period, but clearly enjoyed a strong peak season, with container volumes up 10.4% over Q2, to 1.2m teu, turnover almost Sfr1.8bn and ebit up 12.3% year on year to Sfr137m.
"The improvement is due to the recovery of demand from SME customers and the increase in imports to Europe and North America from Asia," the company explained.
Its air freight division managed to increase profits and revenue, despite lower volumes, revealing that third-quarter volumes came in at 354,000 tonnes, a year-on-year decline of 12.8%.
However, third-quarter revenue increased by 8.7% to Sfr1.2bn and ebit by 89.9% to Sfr169m, although this "includes a positive one-off impact of net Sfr63m due to early settlement of the contingent consideration of an acquisition from 2018″, it said.
"Improved market conditions in the third quarter, including the automotive sector and perishable goods, led to a greater than normal seasonal uplift in Air Logistics volumes versus the second quarter.
"Crisis goods, on the other hand, increasingly shifted to alternative transport routes," it added.
The road transport division reported a meagre Q3 ebit of Sfr12m, down 29.4% year on year, while revenue declined 7.7% to Sfr796m, partially due to the widespread cancellation of events, conferences and exhibitions, which devastated the logistics businesses supporting them.
Revenue and ebit declines were also seen in contract logistics, in both the nine- and three-month periods, although it said business had begun to improve in Q3 thanks to "market share gains in pharma & healthcare services and in e-commerce fulfilment, as well as stringent cost management".
Loadstar Premium editor Alessandro Pasetti writes today that KN could have delivered worse results had it not moved to reduce staff and other costs, and suggested further cuts could be on their way. Staff numbers have been reduced by 5,000-6,000 since the onset of the pandemic, based on the official records.
He writes: "Headcount is down materially from pre-Covid, which helped the margins a lot. As everybody expected, it was the worst Q3 volume performance in years, both in air and ocean, with a 16% quarter-on-quarter drop in air gross profit/100kg, just outside our estimated drop range (10%-15%).
"Yet ebit/100kg was higher than we expected, while ocean profitability was good, broadly in line with the rumblings in our marketplace.
"The reminder of its portfolio was mixed, as usual, pointing to more rationalisation through to 2021."