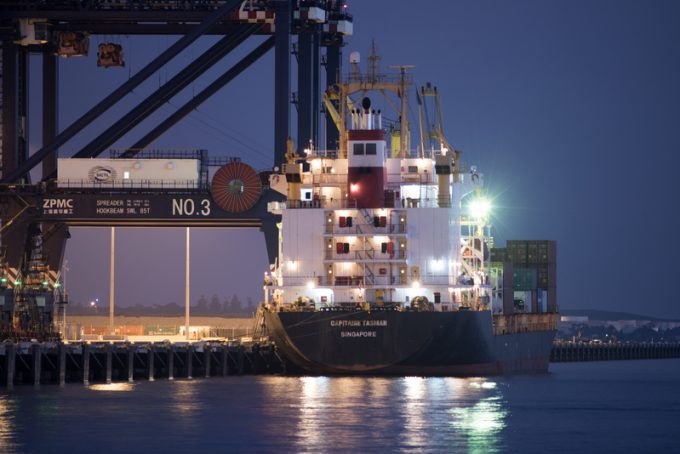 Australasia's container supply chains have had a difficult first half, with trade war contagion signalling a fresh downturn on the horizon.
"The container shipping market within Australia and New Zealand has had a mixed year thus far, as we come into the peak import period," noted Greg Paradine, Oceania product manager at Maersk.
He said the carrier had seen a number of macroeconomic and environmental forces impact the market, resulting in both opportunities and challenges ahead.
"For example, while dairy exports and project-related imports have delivered encouraging volumes, a downturn in consumer spending has hit the retail market in Australia.
"The challenges have been further compounded by the drought in Eastern Australia and parts of New Zealand, and floods in Queensland earlier in the year all playa part in softer seasonal export volumes," added Mr Paradine.
According to FreightWaves, Australian ports recorded over 1.94m teu in the first quarter, "likely down" on 2018.
Ronald Spahr, managing director of Sydney-based forwarder International Cargo Express (ICE), said most tradelanes were stable and registering similar volumes to 2018 – apart from China, where freight rates have been tumbling.
"The volume is similar or a little less from China, which is Australia's major tradelane," he told The Loadstar.
"Freight rates are declining from ports in southern China, dropping to about US$100 per 20ft container. Compare this with a 20ft move from the port of Sydney to Western Australia, which costs about $1,200. The shipping lines are trying to mitigate this decline by publishing ghost sailings."
The US-China trade war has certainly had an impact, Mr Spahr added, claiming continuing conflict would negatively impact shipping lines.
"A few lines are just surviving and a continued trade war will see bankruptcies for sure," he claimed. "It has put a current downward spiral on the full container load (FCL) market."
China is Australia's biggest trading partner, with bilateral trade worth some US$149.3bn in 2018, up 8.9% year on year, according to China's Global Times. The growth was down from 30% the year before, however, and analysts believe both the US-China trade war and political tensions between Beijing and Canberra are having an impact.
For example, last August, the Australian government blocked Chinese telecoms giant Huawei from supplying 5G equipment in the country, a move which followed accusations China had been meddling in Australia's domestic affairs.
Maersk's Mr Paradine said customers in Australia and New Zealand were continuing to re-evaluate their supply chains.
"While the Oceania market has only been indirectly impacted by the US-China trade war, mostly by changes in sourcing locations of the multinationals, the general trend of Oceania-based customers reviewing sourcing locations continues throughout North and South-east Asia.
"Maersk is focused on any directional shifts in supply chains and we keep an open dialogue with customers to ensure we remain agile to market conditions and optimise our offerings," he noted.