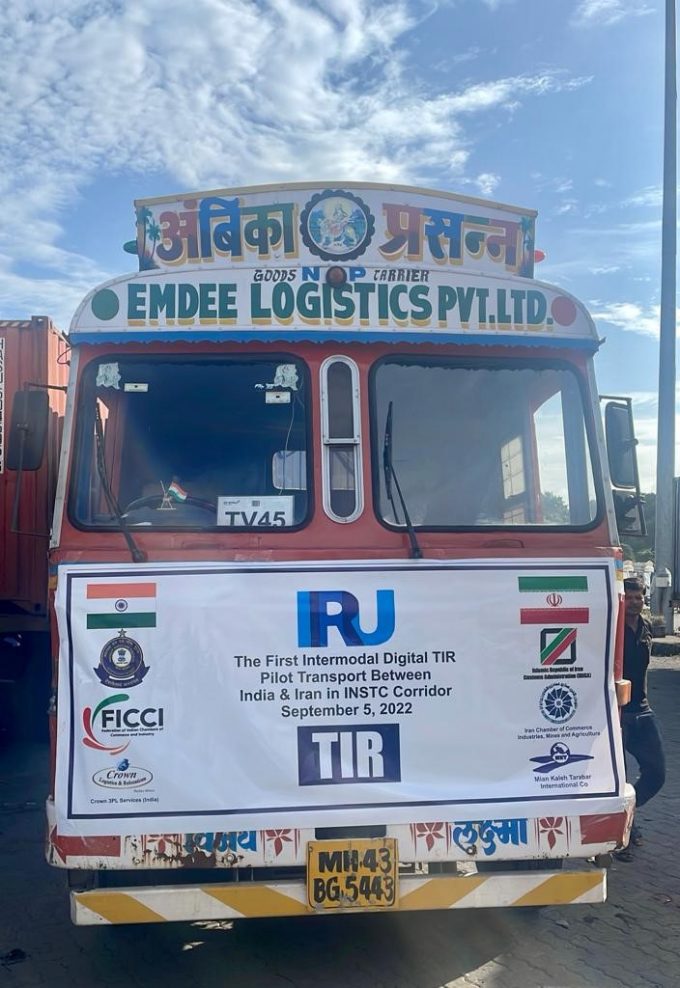 A loaded truck from Nhava Sheva Port/JNPT on Tuesday became the first intermodal digital TIR (Transports Internationaux Routiers) pilot movement between India and Iran under the International North South Transport Corridor (INSTC) framework.
The cargo is destined for Moscow, transiting the Central Asia multimodal corridor through an intermediate port in Iran, according to sources at the Nhava Sheva customs house.
The TIR initiative is a global system that allows road transport service providers to declare their data only once when moving goods across multiple borders and, while the TIR convention has been in place for over four decades, New Delhi joined this unified customs platform in 2017.
"TIR helps in the facilitation of trade and transport, preventing delays at border crossings by minimising the formalities and decrease transportation costs, which encourages the development of international trade," an official statement noted.
"This system provides many advantages and benefits to the national economy by simplifying the movement of national and international transport, giving access to over 64 TIR operational countries."
The loading from Nhava Sheva was a joint effort involving the Federation of Indian Chambers of Commerce & Industry (FICCI), the Iran Chamber of Commerce & Industries and Crown 3PL Services (India) as the logistics operator, in addition to Customs' leadership.
The FICCI has been tasked with handling the international ATA Carnet system, which allows for the temporary duty- and tax-free export/import of goods for up to one year.
The latest Indian move indicates the speed at which stakeholders are working to maximise the potential of the INSTC in the wake of  western sanctions-related challenges for India-Russia trade flows.
The Indian government is reportedly already considering incentivising exporters seeking to settle in rupees instead of US dollars. But this has received a lukewarm response from banking institutions, ostensibly because of their concerns over potential US action against them, according to industry sources.
The Reserve Bank of India (RBI) has now moved to allay those fears by setting up an interactive stakeholder session this week.
"There are some underlying risk factors, as all banks have widespread international operations," an industry observer told The Loadstar.  "They are already caught up in many problems and the policymakers have a challenge getting the bankers to the operating table."