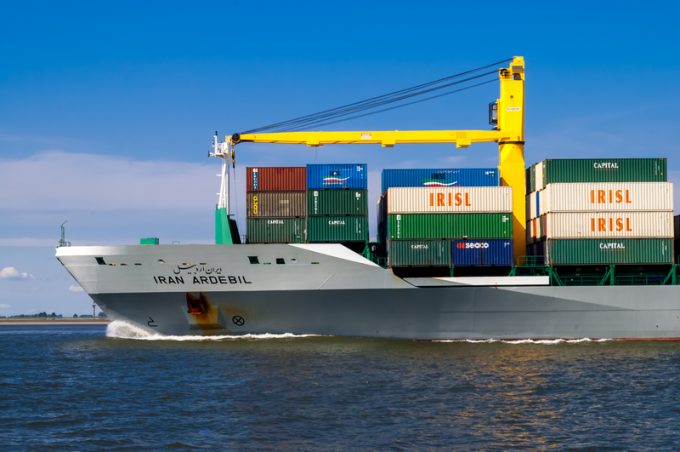 Asian regional carriers are actively tapping into the potential of India-Russia trade stakeholders striving to expand use of the "International North South Transport Corridor (INSTC)" route as an alternative freight connection in the wake of western sanctions on Moscow.
INSTC is a multimodal, cross-border freight transportation network, involving sea-rail-road connectivity links, between India, Russia, Iran, Europe and Central Asia.
Leading the effort, Islamic Republic of Iran Shipping Lines (IRISL) carried a record container volume of some 27,500 teu, equating to about 337,000 metric tonnes, between the two countries in the four-month period through the end of July, it said.
The ocean leg often connects Bandar Abbas in Iran and Nhava Sheva (JNPT) in India, industry sources told The Loadstar.
Sources also said niche short-haul/feeder ship operators such as Sima Marine, Goodrich Maritime, and Econship had also made ad-hoc calls to Nhava Sheva from Iran with Russian transit cargo in recent weeks.
"Containerised imports from Russia have mostly consisted of engineering products, chemicals and newsprint," a terminal official at Nhava Sheva told The Loadstar.  "This trade flow is trending up and we are hoping to see more sailings, regular and on inducement, in the coming weeks."
To help better handle growing transit cargo operations via INSTC, IRISL has also strengthened its office networks in India and Russia.  In addition, the carrier has four container vessels on order to ramp up its services along the Caspian Sea route, according to reports from Iran.
IRISL has a fleet of 150 vessels, including 30 container carriers.  The company moved some 27m tonnes of cargo last fiscal year (2021-22).
At the same time, India is keen to bring Iran's Chabahar Port, where New Delhi has ongoing investment in container berth upgrades and operations, under the INSTC framework to achieve greater economies of scale from multimodal transportation.
"The idea of INSTC via the vibrant Shahid Beheshti Port at Chabahar in Iran is an idea to connect the two markets using a multimodal logistics corridor," said India's shipping minister Sarbananda Sonowal at a recent industry outreach programme in Mumbai. "This will rationalise our logistics cost which will contribute towards the trade volume between the two regions."
To incentivise transport stakeholders, the Nhava Sheva port authority earlier announced that carriers lifting a minimum of 50 TEU or 5,000 metric tons of exports per voyage for Chabahar would receive a 40% discount on vessel-related charges and a similar concession on container-related fees for export-import movement, across all terminals in the complex.
Meanwhile, New Delhi is making heightened efforts to put the rupee trading mechanism in operation.  In response to an interactive stakeholder session set up by policymakers and officials at the Reserve Bank of India (RBI), some 100 correspondent banks operating in Russia, CIS and the subcontinent region have reportedly now come forward to get aligned with the alternative guidelines.
The rupee invoicing method was announced in July, after the local currency had depreciated sharply against the greenback and SWIFT transactions for Russian trade hit roadblocks.
You can contact the writer at [email protected].