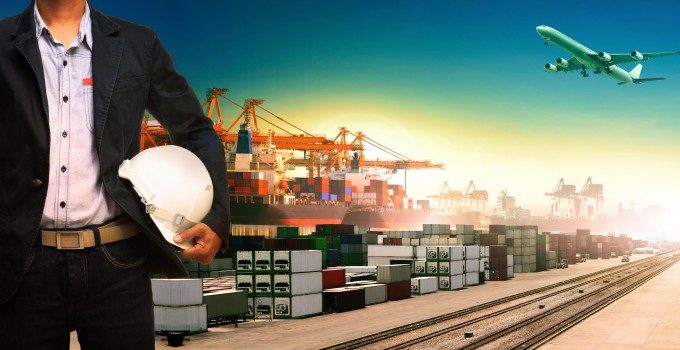 With the first of Maersk's Triple-E container ships, the Maersk McKinney Moller, due to be officially delivered to the line tomorrow by shipbuilder Daewoo Shipbuilding and Marine Engineering, a new round of vessel cascading is set to test port limits around the world.
It's like Game of Thrones. Once again the crown of the world's largest ship – the latest series of 16,400teu ships owned by CMA CGM and led by the Jules Verne – is set to be passed along back to Maersk, with the official capacity of the Maersk McKinney Moller now understood to be 18,270teu. And the record will stay with Maersk for a couple of years while the 20-strong fleet of Triple-E vessels continue to be built and delivered to the Danish company, until China Shipping and United Arab Shipping Company take delivery of the first of the 10 vessels of 18,400teu capacity that they have ordered from Hyundai for 2015.
What makes the latest round of mega-vessel orders different from earlier eras when ship size records were broken is that few see this as anything other than a stepping stone to a further increase in vessel sizes. Speaking at last week's TOC Container Supply Chain conference in Rotterdam, Ocean Shipping Consultants managing director Andrew Penfold revealed that his company has been conducting research in conjunction with classification society Lloyd's Register and a pair of unnamed shipping lines into the economies of scale offered by ships up to 24,000teu capacity.
"If you take the analysis up to 24,000teu vessels, you will see there are further cost savings to be made. If we go to 18,500teu size and then put another couple of bays in the ship you are pretty soon getting to 22,000-24,000teu teu size.
"The key point is that there is no technical reason why we cannot build 24,000teu ships, and if you going to build 18,000teu ships why not go to 20,000-plus teu ships? I think we are going to see even larger ships coming in," he said.
The company's research concluded that while the an 18,000teu vessel is expected to incur total costs per day at sea of $197,198, a 22,000teu vessel would run-up costs of $220,892 per day and a 24,000teu ship would incur costs of $229,693 per day. However, the cost per slot goes down – with an 18,000teu vessel incurring a cost of $10.96 per teu, per day at sea; while a 22,000teu vessel would cost $10.04 per teu per day at sea, and a 24,000teu ship calculated to cost $9.57 per teu per day at sea.
In contrast, a 12,500teu ship is currently calculated to cost $12.43 per teu per day at sea.
"There's a more than reasonable cost saving going from a 12,500teu ship to an 18,000teu ship and that is the reason why the lines have done it," he added.
In terms of dimensions, Lloyd's Register research concluded that a 24,415teu container ship would likely have a beam of 64 metres and a length of 479 metres. The Triple-E class vessels are 399 metres long and have a beam of 59 metres – the difference with the Emma class is just one extra row of containers.
Neil Davidson, ports and terminals senior analyst at Drewry Maritime Research, added: "I think it's only a question of time before we see the next upsizing – you might even see 22,000teu ships in operation as early as 2018."
This trend will have huge implications for ports and terminals, which are already seeing the effects of vessel cascading – the process of moving larger vessels from main trades onto smaller trades as they are displaced from the main trades by the entrance of even larger ships, such as the Triple-E.
"Ports and terminals, especially in the north-south trades, are being asked to handle ships which would have appeared to be totally out of scale with the demands of the trade – that's not because the shipping lines are being careful with where they put their ships, but because they've got so many of them, there's nothing else they can do with them," said Mr Penfold.
The average size of ships in the Asia-North Europe trade is expected to reach 11,300teu by the end of this year, according to Drewry, and the advent of the Jules Verne class, the Triple-E class and a host of other ultra-large container ships from other lines ultimately means that 40 ships in the 8,000teu category will have to be cascaded from Asia-North Europe onto other routes.
In fact, since January 2012 ships sizes have grown more steeply on the Asia-Mediterranean, Europe-east coast South America, Asia-east coast South America and Asia-Middle East trades than they have on Asia-North Europe, despite it being the destination of the ultra large container vessels.
14,000teu ships are now routinely seen in the Middle East and Mediterranean, while India handled its first 14,000teu vessel – the MSC Valeria in Mundra ­– in June. The US west coast now sees 13,000teu vessels call, South Africa is having to handle 12,500teu ships and the 9,000teu range is a common sight on both coasts of South America.
"There is dramatic upsizing that is being forced on ports around the world – vessel upsizing is not just an Asia-North Europe story, it's a global story because big ships are pushed out all around the world, and that is affecting everybody," said Mr Davidson.
"The 18,000teu size has implications for all ports around the world, not just the ports that are going to serve them," he continued.
Although the growth in ship sizes on the Asia-Europe routes is in terms of vessel beam, ports on secondary routes will have to think about dredging access channels and alongside berths; building longer quay walls; and extending crane heights and outreach – and it already appears as if some terminal development plans will have to be re-thought.
Take the port of Melbourne's planned Webb Dock as an example. The A$1.6bn project is currently at the bid phase, with a shortlist comprising CMA CGM, Hutchison, Qube Holdings and ICTSI, but the engineering outlines foresee a 300-metre quay built with a depth alongside of 14 metres. It is expected to be one of Australia's premier container facilities, but despite meticulous planning the project could be in danger of being overtaken by reality before it is even built.
Mr Penfold said: "They have spent a very long time working out what would be the anticipated vessel sizes to call at the terminal, with a lot of arguments about what would be the cheapest per slot, which was concluded to be the 6,000teu vessel size as the country's ship of the future."
"This was only three years ago. Now because of cascading I would expect to see larger vessels calling there, but coming in part-loaded," he said.