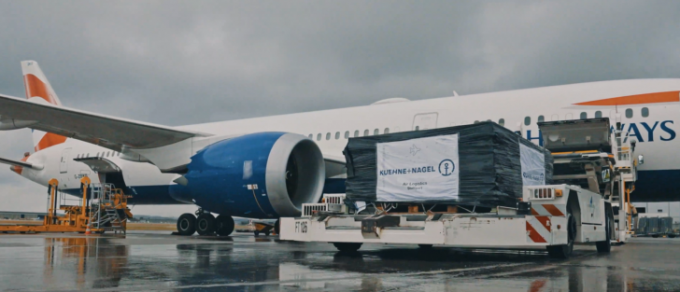 Airlines must start measuring and informing customers of emissions for each aircraft on each tradelane, if forwarders are to develop their Scope 3, indirect emissions reporting and reduction.
A webinar today unveiled a partnership between Kuehne + Nagel (KN) and IAG Cargo for 16 carbon-neutral 787-900 cargo-only charters between Stuttgart and Atlanta, using sustainable aviation fuel (SAF).
During the presentation, Marcel Fujike, KN's global head product & developments air logistics, said carriers needed to improve their reporting.
"By the end of 2030, we want our suppliers for our Scope 3 plans, to be carbon-neutral. It's quite a challenge in air logistics – 97% of our indirect emissions are from flights.
"We want carriers to report on each aircraft, per lane. That would allow us to change aircraft, or routings.
"We can also suggest alternative transport modes – although our customers don't use air freight just because they love it."
The flights with IAG Cargo become carbon net zero by buying 1.25 litres of SAF for every 1 litre of jet fuel needed, thus compensating for SAF emissions – which are 80% lower.
Shipper interest in emissions has hit a new peak over the past few months, driving forwarders to look for lower emission contracts.
"As we come out of Covid, shippers are starting to concentrate on other things," explained Mr Fujike. "Every day, up to 10 shippers approach us about emissions," he said, adding that he noted their disappointment when they discovered the cost of SAF.
"The price point ideally needs to be the same as traditional jet fuel," he said. "It all depends on freight rates, of course, but if you could get a price even 10% above, that could work."
At the moment, just three regions are subsidising SAF: the UK, the Netherlands and the US. KN buys the majority of its SAF from California, but it sourced its fuel for the IAG flights from the UK.
Mr Fujike told The Loadstar: "The real big move of ours was buying three million gallons, with American Airlines, in March from California. I've got the fuel in hand and can offer it to customers. We can offset the remaining emissions, or overcompensate with more SAF."
As with subsidies, the ability and interest of airlines in SAF varies around the world, making it harder for customers with a global reach to insist on it.
"It all depends on the region the carrier comes from," explained Mr Fujike. "The Americans, perhaps surprisingly, are really driving the game. The Middle East is now waking up and trying to close the gap, we are seeing movement from carriers there – and when they move, they tend to move fast.
"But it is not a topic in Asia. In five or six or seven years, it will be huge, but it's not part of their thinking now."
At least some companies in Asia look to be tying up with non-Asian carriers, however: today, Hellmann Middle East South Asia joined the Air France-KLM SAF programme, the first in the region to do so. The programme allows shippers and forwarders to power a share of their flight using SAF, with each company choosing its own level of participation.
In part because of this uneven distribution of both subsidies and enthusiasm, KN's preferred carrier list "only discusses SAF, but it's not part of the criteria".
He acknowledged that some SAF announcements across the market were mostly market awareness-related, such as its carbon-neutral lane between Amsterdam and Los Angeles with AF-KLM, but he added: "Raising awareness is important, to show it's something we need to do and that it's possible. We talk of one green lane and our customers call and say they want every lane to be green.
"It creates awareness, and it creates attention. And also our employees care, so there is an internal pressure to perform."
Since it began its charter service last year, KN has completed more than 300 charters – all carbon-neutral, either via offsetting or use of alternative fuel.
The forwarder has already targeted its own direct emissions, Scope 1, and under its Scope 2 plans it has reassessed the energy it purchases. It now has one global provider of green energy, which has cut 90% of emissions from its top 15 countries.