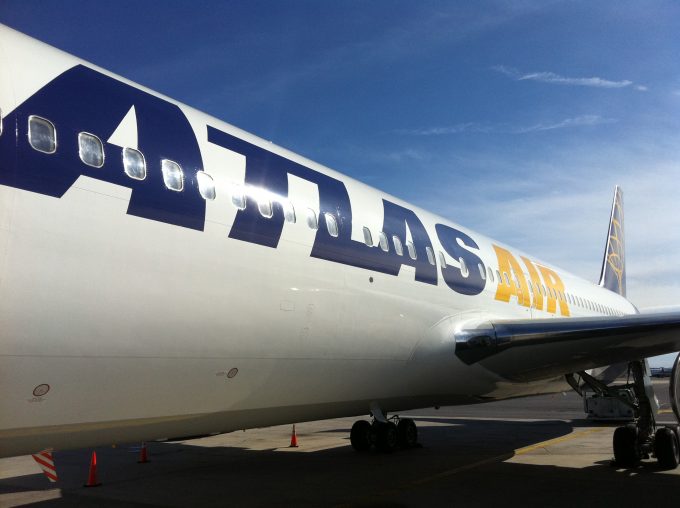 Atlas Air is to pare back costs across the board following poor third-quarter results, as the share price fell 8% to just $22, half the level it was in July.
While it is pinning its hopes on the fourth quarter, it looks set to expect further disruption from its pilots.
In a tense earnings call, shareholders put pressure on the carrier, which reported third-quarter income from continuing operations of $60m, against $71.1m a year earlier.
Ebitda was $95.6m, compared with $123.9m in the same quarter of 2018, while adjusted income fell 78% to $9.5m. One analyst described the results as a "massive miss".
While Atlas blamed the global economic environment, tariffs and labour disruption, shareholders expressed concern that management had failed to fix its labour problems while themselves had enjoyed increased compensation and promotion.
Management said it would look "aggressively" at its costs and would squeeze suppliers.
"We're looking at every line item, minimising discretionary spending, certainly controlling headcount," said John Dietrich, chief operating officer and incoming chief executive.
"There is a lot of headway we can get tightening our relationships with our vendors that we rely on quite a bit for our high-cost items like heavy checks and engine overhauls."
He also said it would use technology to achieve optimal scheduling, and take out any less profitable routes.
The carrier noted that customers had flown less this year, at just about 10% more than the minimums specified in their contracts, against 18% last year.
"So for the third quarter of this year, customers have been flying much, much below [normal]," said Spencer Schwartz, chief financial officer.
Atlas also suffered from the loss of two Amazon aircraft leases to ATSG, widely thought to be related to concerns over labour disruption in the peak season.
Outgoing chief executive Bill Flynn gave little detail on the decision, but said: "Customers look at a variety of factors when they consider to make a decision to move an asset from one operator to another. And so it really depends on a number of factors, but certainly on the customer's assessment of what's going to best suit their network and meet their customer needs."
But he added: "it's important to point out that the long-term dry lease contracts that we have in place on the assets that have moved off our spec remain in place for the term."
Atlas would not be drawn on how much the labour disruption had cost, but Mr Schwartz said: "The impact from both the labour disruptions as well as the impact from the global trade tensions and tariffs are by far the two biggest issues that have impacted us."
Despite a conciliatory tone to the pilots from Mr Flynn in the prepared comments, Mr Dietrich made management's feeling apparent – and indicated that disruption would continue.
"Frankly, the union failed to meet the deadlines the arbitrators laid out.
"We've been urging the union to tender us a proposal because, as we sit here today, we have not received a comprehensive economic proposal. You can't really get to the total deal without that."
The labour disruption has certainly cost the company.
"We've had penalties that we had to pay to customers, when normally we enjoy bonuses, and that obviously had an impact," explained Mr Schwartz. "We had certain cancelled missions … we had certain passenger displacement costs and then we had higher crew costs for various things."
Atlas appears to have factored the additional costs into the fourth quarter – implying continued acrimonious relations with its pilots.
"Our fourth-quarter estimates… reflect the business as we see it today," said Mr Flynn. "[This] would include those disruption costs, or some of those disruption costs."
But shareholders were angry that the labour problems are continuing, while at the same time executive pay at the carrier is high, above average levels for similar-sized companies.
Howard Rosencrans, founder of Value Advisory, said: "The only resonating factor to us, the shareholders, is the … compensation to management, which runs significantly north … into the hundreds of millions of dollars."
Mr Flynn defended the pay, noting that the company had brought in executives from the retail industry, Pepsi and GE. But Mr Rosencrans queried the compensation and promotions in the management team in light of its failure to fix the labour problems.
"The labour thing has been going on for many, many, many years," he said. "So this is not a new one. I believe it should have been dealt with. We shouldn't have allowed it to coincide with the difficult macro environment, we should have been ahead of the curve in my opinion.
"Even a company as complex – in a much worse industry – like GM has been able to successfully resolve labour issues more expeditiously."
But Mr Flynn countered: "I believe that the continuity of the senior management is imperative for the company, of which solving and resolving the new labour contract is just a part of that."
Full-year results are expected to be 60% to 65% of 2018's adjusted net income, at about $2.75bn.
There could be also concerns over liquidity. The carrier's cash position has lowered considerably, at a total of $82.8m as of the end of September, against $248.4m at the end of 2018.
The company said it had spent on "flight equipment and modifications, including the acquisition of 747-400 passenger aircraft, 767-300 aircraft and related freighter conversion costs, spare engines and GEnx engine performance upgrade kits".
Atlas Air has also announced that Jim Forbes will be taking over from John Dietrich as chief operating officer when he becomes chief executive in January. Mr Forbes is currently chief operating officer for Southern Air.
You can read Atlas Air's results here, and there will be further analysis on Loadstar Premium next week. You can listen to or read the earnings call here.