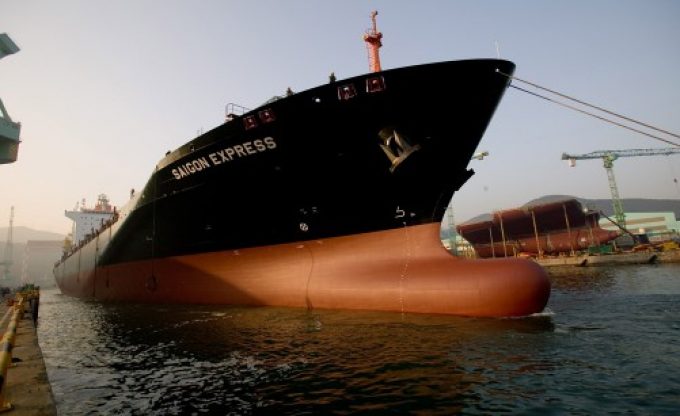 Boxship lessor Seaspan Corporation says it remains "fully focused" on growing its non-operating containership-owning business, despite its recent decision to invest in the energy sector.
In a lengthy Q&A session, part of its third-quarter earnings call yesterday, management repeatedly denied that a potential $200m investment in the restructured Singapore-listed Swiber Group meant it was no longer interested in container shipping.
Chairman David Sokol said Seaspan would "continue to look at container opportunities".
However, he said, the Swiber opportunity – which will see the company pay an initial $20m for an 80% stake in the oil and gas offshore group – represented an investment diversification "in keeping with the board's strategy to have a foot in adjacent spaces".
Admitting that it represented a "significant departure" from Seaspan's previous business plan, Mr Sokol explained that the attraction of Swiber was its substantial involvement in the LNG sector supply chain in Asia.
"The opportunity came to us and was a logical step to the diversification of Seaspan over time," said Mr Sokol.
Seaspan's operating fleet consists of 112 containerships with a total capacity of over 900,000 teu, the majority of which are chartered to ocean carriers against long-term fixed-rate charter parties. In Q3, charter revenue was $295m, exceeding earlier guidance, returning a net profit of $80m for the period.
Seaspan said that, in line with the improved charter market, it had not only achieved higher daily hire rates for short-term charters but that some charters had been extended at "substantially higher rates".
Cosco, Seaspan's biggest client, chartered one new vessel and extended the hires on five other ships during the quarter and there was also a new long-term fixture with Hapag-Lloyd extending seven other charters.
Executive VP and chief commercial and technical officer Peter Curtis was bullish on the outlook for the charter market, an attitude he attributed to the "improvements in the industry" from the carriers' "ability to manage their capacity".
Seaspan has a war chest of $1bn from the investment of Fairfax Financial Holdings, now a 22% shareholder, and it has been assumed that the cash would be used to acquire more ships, or distressed shipowners.
However, other than Swiber, Mr Sokol didn't see any other immediate investments and Seaspan's target remained "to de-leverage its balance sheet" and obtain investment grade status.
Seaspan's "watertight" business model, to charter its ships to liner shipping companies on a long-term fixed-rate basis, was called into question after the bankruptcy of Hanjin Shipping in 2016. The South Korean carrier had a number of ships on charter from Seaspan leaving the shipowner with a massive charter default and having to seek new fixtures at significantly lower daily hire rates.
Notwithstanding the escalation of the US-China trade war, Seaspan said the biggest concern of its liner customers was "dealing with the cost of fuel and getting compensation".
It confirmed it was in discussion with a number of its liner customers about the fitting of exhaust scrubber systems in the light of the looming IMO 2020 0.5% sulphur regulations, but said carriers deciding on this option would "have to pay in full" for the installations.