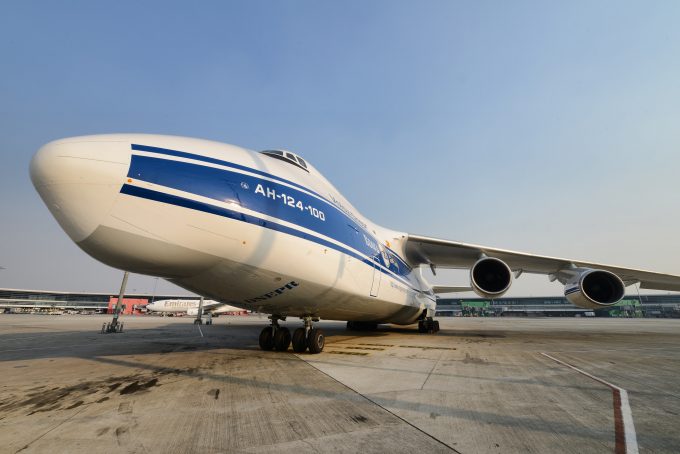 The Russian press are reporting a certain amount of political sabre-rattling in response to Volga-Dnepr Group's expected order for 20 747-8Fs.
The freighter airline group is reportedly in talks with Boeing, in advance of an expected announcement at the Farnborough Airshow next month, with the aircraft intended for its AirBridgeCargo and Cargologicair fleets. But figures in Russia apparently opposed to the deal are questioning whether the group would be able to retain all its AN-124 fleet – or whether some should be taken over by the government.
One analyst told Russian media that the group may not be able to finance the 747-8Fs, and that Russian banks may not help fund the purchase. According to the analyst, Volga-Dnepr would then have to go to foreign banks at a higher cost – threatening the finance deals it has on its existing fleet of AN-124s.
However, the carrier and its bank Sberbank last week announced a cooperation on future financing, and the moves in Russia appear to be politically motivated – or simply a desire to gain more AN-124s.
The Russian military has expressed concern over its own feedstock of AN-124s. A council member of the Ministry of Defense, Ruslan Pukhov, told media that the ministry should consider repurchasing the AN-124s, which are no longer produced. It appears that engines and parts, made in Ukraine, are becoming harder for the Russian government to source.
And worsening relations between the US and Russia makes Volga-Dnepr's planned US aircraft acquisition look "strange".
Mr Pukhov reportedly told Russia media: "At the moment almost all An-124s belong to Volga-Dnepr, under a guarantee from Sberbank. How can a company seriously discuss the purchase of 20 jumbo jets?
"We have been in a close partnership with the United States since September 11, 2001, and so the idea of purchasing from Boeing could be taken seriously, but the circumstances have changed greatly over the past two years."
However, there is little evidence that the group is struggling, and last week it announced a strategic cooperation with Sberbank for future financing projects. The announcement added that the pair could work together on developing an aircraft leasing subsidiary through the group's Irish subsidiary, Volga-Dnepr Airlines (Ireland).
A statement issued by Sberbank said: "Sberbank (including its subsidiary Sberbank Leasing) and Volga-Dnepr Group have worked together since 1997. Together they have completed projects to acquire and then supply to Volga-Dnepr Airlines unique AN-124-100 Ruslan aircraft, and finance the purchasing of aircraft from the Boeing 747 family."
Maxim Poletaev, first deputy chairman of the executive board of Sberbank, said: "Volga-Dnepr Group is one of our key clients. We highly value our experience of working on joint projects with Volga-Dnepr Group in the area of air freight transportation, and plan to broaden cooperation in the future."
According to Planespotters' database, the Russian Federation Air Force has six active AN-124s and three stored. Antonov has seven, 224th Flight Unit has five, Maximus has one and Volga-Dnepr has 11.
Volga-Dnepr did not respond to The Loadstar's request for comment.