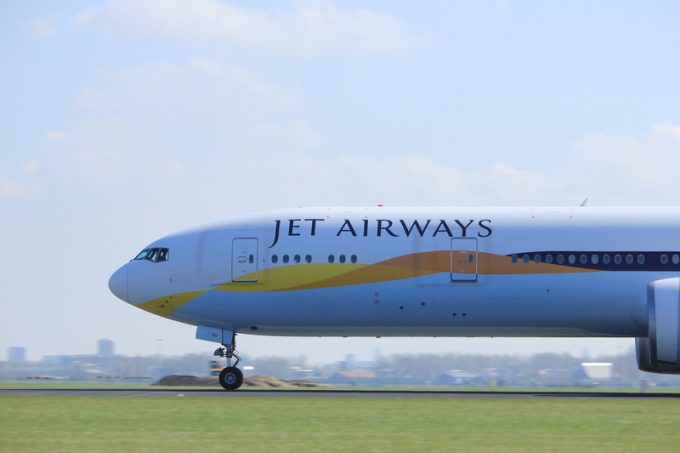 A Dutch court has declared Jet Airways bankrupt as rival carriers pick over the bones of the routes left behind. 
Following cargo handler and creditor WFS's request to ground a Jet 777 last month in Amsterdam, which has been on the tarmac at Schiphol ever since, a Dutch court ruled that the carrier, which was not represented in court but which has an office in the Netherlands, is bankrupt.
It is not yet clear, according to Dutch media, whether the decision will be recognised by Indian law.  
The bankruptcy order was requested by two unnamed European companies owed money by Jet. 
Jet's suspension has led to higher prices in India – and a newfound interest in Indian routes. This morning, Virgin Atlantic said it would relaunch its Heathrow-Mumbai service in October. 
"Until recently we've been able to serve this important market through our partnership with Jet Airways. However, we now have an opportunity to provide alternative options for our customers and meet this demand," said Juha Jarvinen, executive vice president, commercial.  
The news will buoy the cargo market, which will have seen significant capacity disruption following Jet's grounding.
The ill-fated Indian airline carried 332,025 tonnes of freight and mail in FY18. Additionally, many observers believe India's trade is seeing a boost via the US-China trade war. Exports to the US rose 11.2% last year, while to China they were up 31.4%. 
Dominic Kennedy, managing director of Virgin Atlantic Cargo, said: "We have given our cargo customers direct access to the vibrant cargo market in India for 19 years and, in 2018, our cargo revenues ex-India rose 10% as support grew for our daily Delhi flights.  
"The Mumbai market is equally buoyant. In the past four years, the overall market from Mumbai to the UK and US has increased by more than 50% in revenue terms, alongside increases of 46% to India from both countries.
"When we resume Mumbai operations in October, we aim to win a strong share of this growing market, supported by … our enhanced capabilities for handling pharmaceuticals, one of the main types of shipments ex Mumbai. More capacity is great news for our import and export customers." 
Partner Delta will also start flights before the end of the year, between JFK and Mumbai and Qatar Airways has also submitted a request for temporary additional capacity between Doha and India. Some 25% of Qatar's population is Indian. 
But Air India is set to benefit the most from Jet's suspension, following a ruling by India's civil aviation authority giving the national carrier first foreign flying rights, followed by other airlines, ranked in terms of available seat kilometres, a decision which has led to complaints by smaller domestic Indian carriers.  
Air India is, however, embroiled in another row – one into which Kalitta Air has also waded. 
In something of a tit-for-tat ruling, the US Department of Transportation (DoT) has accused the Indian government of failing to allow US carriers to perform their own ground handling at Indian airports, despite the countries' bilateral air transport agreement. As a result, the US is requiring Indian airlines serving the US – Air India  – to report all ground handling activities at each US airport, and considering suspending its right to self-handle. 
FedEx is currently the only airline affected by India's self-handling ban. But Kalitta Air, which operates 10 weekly scheduled all-cargo flights into New Delhi primarily on behalf of DHL, while admitting it has no problem with the self-handling ban, commented that "has experienced great difficulty in bringing in relief flights when it has experienced an AOG [aircraft on the ground] situation at New Delhi, as it discovered on two occasions in 2017". 
Kalitta said it tried to divert another aircraft to pick up the parcels, but the Indian aviation authority "would not permit the relief flight to operate, stating that it regarded this to be a change in schedule, which requires formal permission with a lead-time of three working days".  
It added: "This caused a substantial delay in the movement of Kalitta's freight and harmed the carrier's customer, who missed promised delivery schedules for thousands of packages. 
"Kalitta Air submits that the government of India's action is a violation of the US-India bilateral in the same way as its actions on self-handling." 
Jet Airways, meanwhile, may have found a stay of execution in the form of Hinduja Group, which looks set to bid for the carrier this week. But it will likely return severely depleted.
Advisor McKinsey & Co has suggested the airline re-open with just half its 120-strong fleet, and more standardised aircraft types, which would be cheaper to maintain. So far 95 of Jet's aircraft have been deregistered.