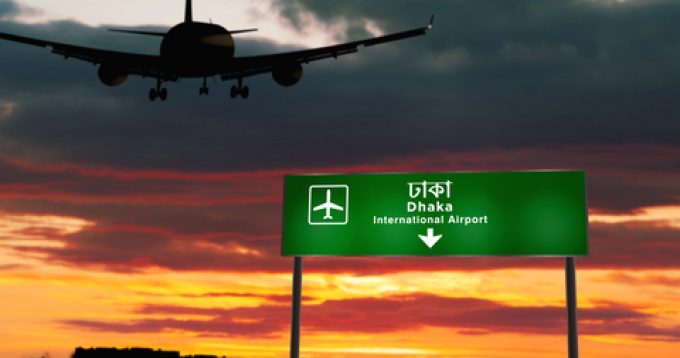 Amid severe traffic chaos at Dhaka Airport, apparel makers, the main user of air cargo services in Bangladesh, have called on the government to act to improve export service quality.
Last week, a delegation from the Bangladesh Garment Manufacturers and Exporters Association met civil aviation minister Mahbub Ali and urged him to increase the number of explosive detection scanners (EDSs) at the cargo village to speed up export cargo scanning.
They claimed mismanagement and slow scanning had seriously hampered garment exports, leading to delays and soaring air freight rates.
One forwarder said: "The air cargo situation is getting worse every day. Problems with loading and unloading  trucks, problems due to lack of equipment during scanning, problems with bringing or storing equipment,  and the result is an increase in fares per hour or day by the airline to cover the cost of operating flights."
Nurul Amin, MD of Tower Freight Logistics, told The Loadstar both the EDS machines were out of order, leaving only sniffer dogs able to examine US and Europe-bound cargo.
"Aircraft are leaving 30%-40% under load," he said, leading to further rate hikes. As of yesterday, rates per kg to Europe reached $6.50 from $5 two weeks ago, while the rate to the US remained unchanged, at $12.
A local forwarder said: "We are all victims of this helplessness. Every year we set and increase export targets. The Cargo Village used to handle 50/60 tonnes of cargo daily in 1970. In 2021, how is it possible to handle 1,100-1,200 tonnes of cargo a day in the same amount of space?"
He said no one was available to repair the broken scanners, and the maintenance contract had expired.
Syed Md Bakhtiar, VP of the Bangladesh Freight Forwarders Association, said: "We pay 6 cents per kg for scanning. Where is that money? Why hasn't the authority bought new scanners or repaired the one that has been non-functional for nearly two years?"
He said an EDS wouldn't cost more than $1m, a tiny amount compared with the daily earnings of the authority. He said a decision was taken a year ago to buy six more scanners, but nothing had happened so far.
M Mafidur Rahman, chairman of the Civil Aviation Authority of Bangladesh (CAAB), told The Loadstar that two new EDSs, funded by Japan International Cooperation Agency, were expected to be validated by the European Union by October.
"Thus, the number of EDSs in Dhaka Airport will be four, of which three will be running continuously, raising the cargo flow," he said, adding that a maintenance deal was to be signed this month to repair the other scanners.
He added that Biman Bangladesh Airlines had been managing the cargo in the airport, but problems had led to the CAAB intensifying its monitoring of the shipment process.
He blamed freight forwarders for bringing trucks too early for the flight schedule, which created long queues. However, some of the truck congestion outside the cargo village and on the roads had eased, after the CAAB asked exporters not to bring cargo more than 30 hours before the flight.
Mr Rahman said until the third terminal was ready for use, there was no chance to improve situation further and added: "The third terminal will enhance our cargo handling capacity three-fold with its 63,000 sq ft cargo village."