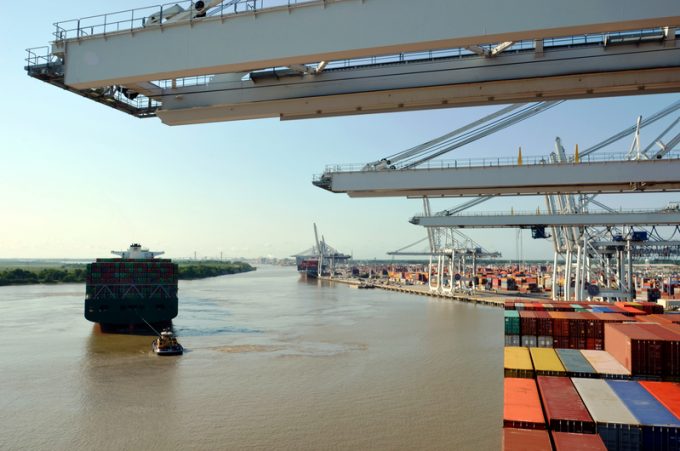 Container spot rates from Asia to Europe remained virtually unchanged this week, despite softer demand, assisting carriers to lock-in shippers with huge contract rate hikes.
On the transpacific, there was no let up in demand and BCOs are struggling to secure new deals with carriers.
According to the Asia to North Europe component of the Freightos Baltic Index (FBX), the rate for a 40ft edged down slightly, to $7,947, from $8,004 a week ago.
To put this in context, the FBX reading for North Europe for the same week of last year stood at just $1,453 per 40ft.
Moreover, in practice, shippers are often obliged to pay more than spot to guarantee equipment and space availability, with shipments to the UK subject to a further surcharge.
For west Mediterranean ports, the FBX recorded a spot rate today of $8,006 per 40ft, which is slightly up on the $7,926 of a week ago.
With little prospect of any sizeable dip in spot rates on the route, shippers that have held back until now on agreeing highly inflated new contract offers from their carriers are finding that, as long as they still have cargo to move, it is better to agree the new terms rather than continue to speculate on the spot market and risk paying more and getting cargo rolled.
"We have had to bite the bullet and agree to the line's 'offer' of $6,500 (per 40ft) for the rest of this year, compared with the $2,250 we paid last year," a director of a UK-based NVOCC told The Loadstar this week.
"We will definitely not have as much business from China this year, as the rates are just too much for some of our customers, but we had to protect clients that can sustain the rate hikes by nailing down a deal with the carrier," he added.
Meanwhile, on the transpacific, "the carriers have all the power", said Jon Monroe, of Washington state-based Jon Monroe Consulting.
Spot rates from Asia to the US west coast, as recorded by the FBX, increased 4% this week, to $4,550 per 40ft, while rates for east coast ports declined by 2.8%, to $5,499 per 40ft.
Compared with the same week of last year, spot rates to the US are 244% and 116% higher for the west and east coasts, respectively, and this is having an enormous impact on the current round of contract negotiations on the route.
"What a situation," said Mr Monroe. "Normally this time of the year, carriers begin to blank sailings to keep space tight to keep rates up, but this year there is no need. Vessels are waiting for berths in Savannah, southern California, Oakland and Vancouver. In any given day this week, we have had 700,000 teu off the shores of US ports waiting to be offloaded."
Meanwhile, the transatlantic is one of the few tradelanes that has not seen dramatic spikes in freight rates since the second half of last year.
However, demand on the headhaul leg from North Europe is strong, and the effect of the 2M's decision this week to blank sailings and slide schedules will exert further pressure on rates, which put on another $80 per 40ft during the week, to take the FBX reading to $2,194.
"Strong volumes plus a growing trend of carriers removing capacity to allocate to more lucrative lanes, have pushed rates up 20% in the last six weeks after staying on par year on year for the most part since the start of the pandemic," said Judah Levine, research lead at Freightos.