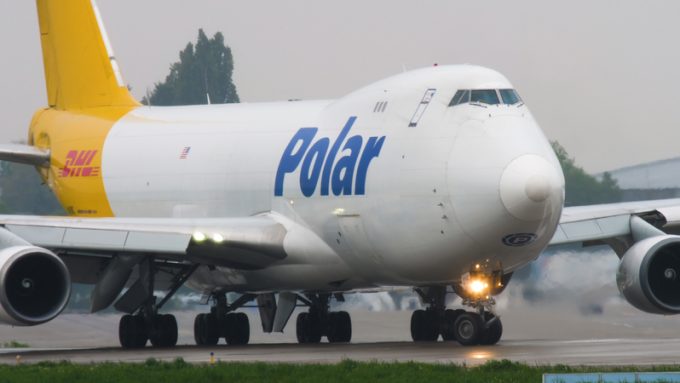 A forwarding customer of Polar Air Cargo, the subsidiary of Atlas Air (51%) and DHL Express (49%), is suing it for $6m losses with eight allegations, including racketeering, fraud, conspiracy and unfair trade practices.
If the case is proved, Polar could be faced with a payment of some $18m, plus costs.
In a series of shocking claims filed on Friday, Cargo on Demand (COD), a small New York-based forwarder, claims Polar violated the US Racketeer Influenced and Corrupt Organizations Act (RICO).
COD also alleges several other forwarders were treated the same way.
In 2014, COD and Polar signed a blocked space agreement (BSA), but COD was advised by member of Polar's management it would also be required to pay third-party companies "consulting fees". These went to five or more companies, in some cases found to have Polar's management as principals, including COO Lars Winkelbauer and sales and marketing VP Thomas Betenia.
Mr Winkelbauer had left Polar in 2014 to go to DHL for four years, but returned to Polar in 2018.
Fees were typically between $0.25 and $0.50 per kg, in addition to the BSA rate.
Typically, alleges COD, the requests for 'consulting fees' were made by Abilash Kurien, Polar's VP of marketing, revenue management and network planning, and, according to one exhibit filed with the court, Mr Kurien emailed COD:  "bro, here is the updated sheet – pls use this for distribution. Please make sure amounts are transferred the way I have laid it out. Total $41,291.93, Frank $1,175.69, maaz $1,000.00, per person $7,823.25.
COD's filing adds: "The consulting fee requirement was articulated to COD by multiple members of Polar management … over the course of seven years. Similarly situated Polar customers known to COD were also required to pay a consulting fee."
COD said it regarded the fees as akin to a hotel resort fee – a payment not included in the quoted rates.
It claims: "Also analogous to a resort fee, the 'consulting fee' allowed Polar to generate additional cargo revenue by giving the appearance of offering lower rates in comparison to competitors than if Polar had quoted the full (ie, all costs and fees included) cost."
COD claimed it was unable to pass on the fees to customers as they weren't part of the freight rates, and that, between 2014 and 2021, it paid nearly $4m in "consulting fees", typically by monthly wire.
The story, however, doesn't end there. In January last year, COD joined Polar's Partner Incentive Program Agreement (PIPA) for the 2021 calendar year, which meant COD shared "extremely commercially sensitive information with Polar, including the identity of COD customers and business partners with air cargo needs on Polar routes".
Cod said: "Thinking the parties were acting in partnership for their mutual benefit, COD also directed nearly all of its customers' cargo traffic to Polar, thereby increasing Polar's revenue and profits. COD took these actions in reliance upon Polar's promise to provide corresponding incentive payouts to COD, the value of which increased, based on COD's increased shipping volume with Polar."
However, in the summer of 2021, Mr Winkelbauer told COD to stop paying the consulting fees, and then left the company. According to their LinkedIn profiles, management member Carlton Llewellyn, VP operations systems performance and quality also left Polar in July 21, as did Mr Kurien. The LinkedIn profiles of the other managers mentioned are unclear as to their leaving dates, but Mr Betenia appears to have retired,
Shortly after COD stopped paying the additional fees, Polar sent it a 60-day cancellation notice, terminating its agreed BSA pricing for some flights to Asia. However, it continued to claim COD was a "valued partner".
COD claims Polar then "intentionally undermined COD's relationship with Polar (and COD's own customers) at every possible opportunity".
COD claims Polar reduced COD's cargo space in the peak season, wrongfully reported payment defaults to CASS and stopped COD from using its e-booking platform, thereby increasing COD's costs.
It says: "In October 2021, Polar further escalated these tactics and placed COD on a cash account. This action by COD's purported 'partner', forced COD to incur an additional 5% charge and handling fee on cargo placed with Polar, completely obliterating COD's ability to continue to offer competitive rates to its customers."
COD had to pre-pay, and took out a $1m loan in order to remain in business.
The lawsuit adds: "These actions by Polar not only caused COD to lose direct revenue on individual shipments, but also destroyed COD's ability to hit overall shipping volumes with Polar that were necessary to trigger the promised incentive payments under the PIPA.
"Additionally, Polar used the information COD disclosed, in reliance upon the PIPA – COD's customers, pricing, prospective customers and other commercial contacts – in order to solicit COD's customers and business contacts to cut out COD and ship air cargo directly through Polar."
Polar told COD on 20 December it was terminating the relationship on 31 December, despite knowing COD's customer commitments for 2022.
At the start of this year, COD discovered that forwarder FATO and others had faced "materially identical" actions by Polar, "poaching all, or nearly all, of their customers – on or around the exact same dates as the communications to COD".
And it doesn't end there. COD wrote to Polar in April asking for redress. In October, Polar responded to the claims – and acknowledged that the "consulting fees" were illicit.
But it added: "Polar is under no obligation to do business with COD. Polar terminated its business with COD because COD made illicit payments to members of Polar management in order to obtain favorable treatment from Polar. Polar has not harmed COD."
"Polar's conduct in winding down its customer relationship with COD and rebuilding its sales organisation and customer base following the termination of the individuals and entities involved in the payment scheme was consistent with all applicable laws and business obligations."
But COD points out in its lawsuit that, despite acknowledgement that the payments were illicit, Polar appears to have taken no action against any of the Polar management team or the "consulting companies".
It also note that parents Atlas Air and DHL do not appear to have made any public disclosure to stockholders "of the 'illicit' multi-year, multi-million dollar "payment scheme" involving multiple customers and its most senior management".
Atlas Air, which in August agreed to be acquired by an investment platform, has not mentioned the case in any of its SEC filings. It told The Loadstar: "Atlas does not comment on potential or pending litigation."