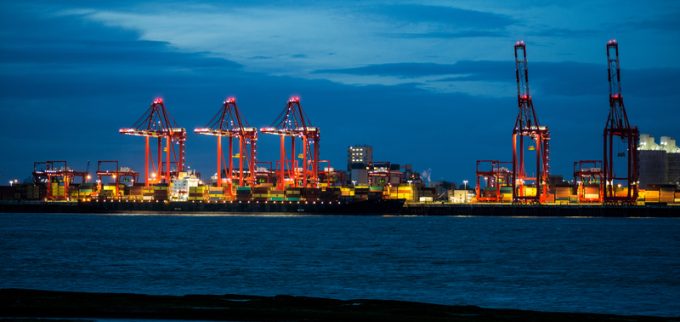 Peak vessel demand at the UK port of Liverpool last week brought severe landside delays and nightmarish waits for hauliers at the T1 terminal, according to a spokesperson for Peel Ports.
Feedback to The Loadstar this morning from hauliers suggested turnaround times for vehicles at T1 was "still very slow", with the problem appearing to be a lack of straddle carriers to serve the landside operation.
The spokesperson said: "Extended haulier wait times last week were a result of peak vessel demand and a temporary suspension of operations at Terminal 1 due to an influx of traffic and time required to ensure the allocation of orderly and safe queuing patterns."
The Loadstar heard complaints from several hauliers last week that delays at the port had reached "boiling point" for the trucking sector; that it was "soul destroying" trying to get VBS appointments and for drivers stranded in hours-long queues to pick up or drop off boxes.
And they claimed import delays resulted in customers incurring substantial rent and demurrage charges from carriers, some drivers were refusing to take jobs at the port and there was a lack of willingness by port management to discuss the problems, as well as the "disgusting" standard of toilet facilities for truck drivers at the terminals.
The port told The Loadstar it was "in the process of employing over 150 new recruits", but did not clarify the position regarding shortage of equipment for servicing vehicles. It said the health and safety of all port users was its "number-one priority" and blamed the poor standard of toilet facilities on a blockage in water pipes that it said was "treated as an emergency and resolved within four hours".
The spokesperson added: "All portside facilities are now back up and running and continue to be checked and maintained on a regular basis. During periods of high use, we will ensure increased maintenance is in place."
Meanwhile, a carrier contact told The Loadstar last week he thought Liverpool had been "too successful" in attracting business from the UK's saturated main container ports in the south, and this was now overwhelming its facilities.
"Something has to give when Liverpool gets these unplanned peaks and that is always going to be the landside," he said.
The congestion at UK ports continues to cause a "critical build-up" of empty equipment at ports and depots, according to the latest data from Container xChange. Its latest CAx (container availability index) recorded another big jump in the number of empty containers in the UK.
"It seems the situation has further deteriorated; we are now seeing critical levels of boxes building up at Southampton and Felixstowe," said Container xChange.
It agreed the launch of new services into Liverpool was "coming unstuck, with the port struggling to handle increased volumes".
It added: "This is reflected in an accelerating excess of containers at the port."
It said the availability of 40ft equipment was up from a reading of 0.59 last year to 0.75. In the CAx index, a reading of 0.50 represents a balanced market – a reading below suggests a deficit of equipment, whereas a figure over that indicates an excess=.