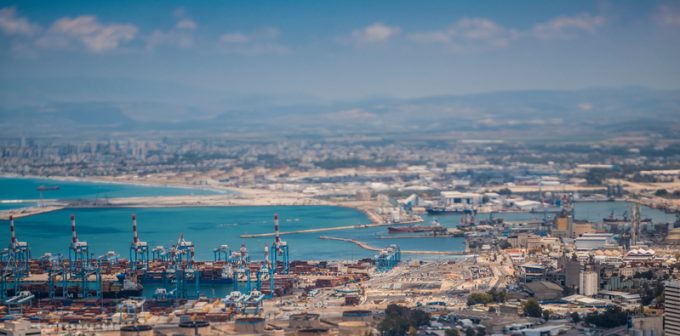 New diplomatic ties between Israel and the UAE are opening up new logistics opportunities in the Middle East.
Israel signed peace accords with both the UAE and Bahrain on 15 September, kick-starting direct economic and political cooperation for the first time.
According to DSV, the UAE deal has already led to an air cargo tradelane, the forwarder sending its first direct shipment, perfume, from the emirates to Israel last week by Israeli flag-carrier El Al.
DSV said: "Such a shipment might easily have taken 10 days from supplier to destination before, but now the transit time from door-to-door is cut in half."
Sigal Mannheim-Katzovich, MD of DSV Israel, said the route had tremendous potential for also reducing costs.
"Israeli business will now have an official, stable bridge to the entire Arab world, opening up huge opportunities in those markets, which could dramatically boost Israel's imports  and exports," she added.
El Al has launched weekly 747 freighter flights to Dubai, via Liege, according to local media. The airline said cargo would include agricultural products and hi-tech goods.
In ocean freight, DP World is exploring potential trade and port investment opportunities in Israel, signing an MOU with DoverTower, the co-owner of Israel Shipyards and Port of Eilat.
DP World said the deal would allow them to develop infrastructure, such as ports and free trade zones, including a direct shipping link between Jebel Ali and Eilat, and a joint-venture company to bid on the privatisation of the port of Haifa (pictured).
Located near Israel's northern border, Haifa is the country's largest port, although with throughput of 1.4m teu, it handles slightly fewer containers than Ashod, in the south and closer to Tel Aviv.
Sultan Ahmed bin Sulayem, chairman and CEO of DP World, noted how, until now, it had been impossible to sail directly from the UAE to Israel.
He said: "Israel enjoys a great location that enables rapid connections to the rest of the world. For example, the distance from Haifa to Baghdad is 900km, while the distance from Basra to Baghdad is 600km."
Maersk has already opened bookings for trade between Israel and the UAE, according to Reuters, although for now the tradelane will operate via transhipment in Port Said, Egypt, where there are services to both Ashod and Haifa.