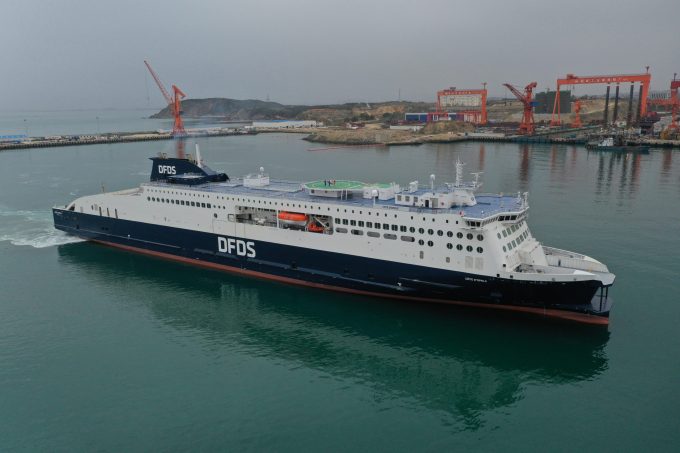 Following successful sea trials, Danish ferry operator DFDS has this week taken delivery of the Côte d'Opale, set to be the longest ferry serving the Dover-Calais route this summer.
Its addition to the trade will match the expected entrance of Irish Ferries to the trade and P&O Ferries' recent decision to add a fifth vessel to its Dover-Calais services.
Filip Hermann, vice president and head of business unit Channel at DFDS, said: "This new ferry will usher in a new era for our services on the Channel.
"With 3,100 lane metres and space for 1,000 passengers, the Côte d'Opale will provide more capacity to help our customers to grow as we emerge from the Covid-19 pandemic and recover from post-Brexit challenges."
The Côte d'Opale was ordered by DFDS in April 2018, on a 10-year charter from Stena RoRo, and was built at the CMI Jinling Weihai shipyard in China. DFDS has an option to buy the vessel after the charter ends.
The new ferry will replace the 1991-built Calais Seaways, now at the end of its service life, and appears more suited to the post-Brexit, pandemic-hit era. The two vessels are similar beam, optimised for Dover and Calais ports, but the new vessel is some 31% longer and lane capacity is 3,100 metres compared with 1,740 metres.
It is also far more efficient, representing just how ship designs have evolved over the past 20 years – it has a cruising speed of 20-22 knots, generated by two engines (compared with the 18 knots the Calais Seaways' four engines generate).
"A key strategic focus for our business is to meet our responsibilities to the environment and reduce emissions. Côte d'Opale is just one example of the steps we are taking to deliver on our objective to reduce our environmental impact," Mr Hermann said
"The work by the 300 dedicated staff at CMI Jinling (Weihai) shipyard has been impeccable and allowed the delivery of the ferry to us earlier than billed," he added.