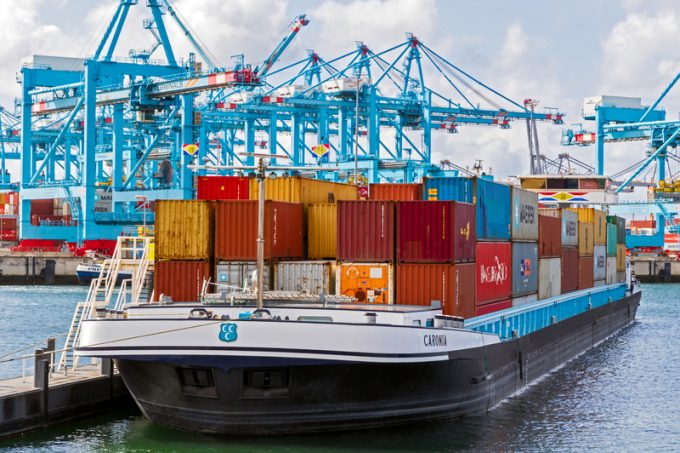 Congestion is on the rise again across Northern Europe's inland waterways, leaving shippers scrambling to retrieve their containers.
Barge operator Contargo's congestion times spiked this week, with delays to Rotterdam services hitting a four-week high of 89 hours.
This is up more than a day on last week and undoing the slow but gradual easing of the delays experienced over the past month.
SeasC4U's Gunther Ginckels told The Loadstar the refusal of barge operators (not the owners) to work together to optimise capacity and anticipate flow imbalances was exacerbating wider problems.
According to Mr Ginckels, a European ocean transport consultant, ultra large container vessels (ULCVs) deposit, on average, 3,000 to 5,000 teu destined for inland navigation per call at Antwerp and Rotterdam.
He said barge operators' refusal to collaborate was leading to 50% of barges between Antwerp- or Rotterdam-Rhine-Ruhr routes, sailing empty.
Barge operator Contargo, which alone moves approximately 50,000 containers a month on some 40 barges, informed customers on Tuesday of the delays, but a spokesperson had yet to respond to The Loadstar on the source of the problems.
Other sources believe the most recent delays stem from the port of Rotterdam being "completely overwhelmed" by the number of ULCVs discharging at its terminals.
One source told The Loadstar: "Terminals are totally overwhelmed, and barge operators are contending with being limited to the time on the quay and boxes being discharged from these big ships not being sorted in time.
"So, the source of these delays is all the ULCVs running off schedule and then discharging a huge number of boxes."
Rotterdam is by no means alone in contending with substantial congestion on barge traffic, with Contargo reporting delays of 37 hours in Antwerp. However, after spiking at 54 hours in mid-May, the Belgian gateway has managed to reduce this to around 35 hours.
Spokesperson for the port of Rotterdam Leon Willems said the issues faced by the Dutch waterway reflected the experiences of ports globally.
"We have always said that the aftermath of the Suez [blockage] would not be over after the last delayed vessel was handled, and the recent Covid-resurgence at Shenzhen does not help.
"Having said that, the plain truth is container volumes are still on the rise in Rotterdam, and we expect the disruptions in the global supply chain to last for months to come, with the upcoming peak season."
One feeder line executive in Northern Europe told The Loadstar approximately 25% of its capacity was being taken up waiting at ports for berths, with the situation in Rotterdam particularly troubling.
The executive added: "It is making running any sort of feeder service at this port an impossible task."