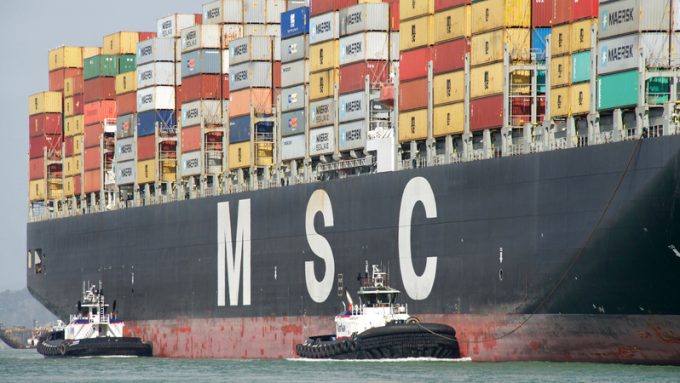 MSC has agreed new long-term charters for two post-panamax scrubber-fitted containerships with non-operating shipowner Capital Product Partners. 
By the start of the IMO's 0.5% sulphur cap regulations on shipping, on 1 January, MSC will have installed exhaust gas cleaning systems on about half of its fleet. This will enable them to continue to burn cheaper heavy fuel oil (HFO) and enjoy lower operating costs than ships using low-sulphur fuel oil (LSFO). 
The 2007-built 8,266 teu Agamemnon will commence its charter in the third quarter, while its 2006-built sister ship, Archimidis, will be taken in charge by MSC in Q4. 
The Greek NASDAQ-listed shipowner did not disclose the amended hire rates for the vessels, or the premium it secured for the scrubber installation, but said the ebitda for the two charters amounted to approximately $44.5m, excluding options. 
Capital decided to equip all of its 10 containerships and one bulker with scrubbers and has been rewarded with increased charter rates to compensate for the $5m or so cost of installation. 
According to vesselsvalue.com, the current value of the 11 vessels is $438m, compared with a scrap value of $121m. However, the value could be upgraded when the increased charter rates are taken into account. 
In addition to MSC, the shipowner has signed amended charters with CMA CGM for three 9,288 teu vessels and five 5,023 teu ships with South Korea's HMM, with brokers indicating that HMM agreed a premium of some 30% for the scrubber-fitted vessels, which could see Capital gain a return on its investment within 18 months. 
Meanwhile, MSC has the most extensive scrubber programme among the ocean carriers, with the latest assessment by Alphaliner putting the number of its ships that will continue to bunker with HFO after 1 January at approximately 250. While Evergreen, with a retrofit and newbuild scrubber programme of some 140 ships out of its 208-strong fleet, will have the highest fleet percentage of compliant but HFO-burning vessels. 
Other carriers, such as Maersk Line and Hapag-Lloyd, which were initially in the LSFO camp and anti-scrubber, have been playing catch-up in order not to be at a cost disadvantage from the impact of IMO 2020. 
The Danish carrier once said scrubbers were "not the answer" to complying with the IMO sulphur cap, but will ultimately have about 100 of its 700+ ship fleet fitted with scrubbers by 1 January. 
However, Maersk, Hapag-Lloyd and others have found that many scrubber companies are effectively 'sold out' until the middle of next year. 
Nevertheless, China's state-owned Cosco has managed to secure availability at yards in China for retrofitting five 18,980 teu and eight 14,074 vessels, reports Alphaliner. 
Overall, the consultant estimates, some 840 containerships, equating to 8.1m teu, and representing 36% of the global container fleet by capacity, will have scrubbers fitted. 
The scrubber divide between the carriers could be a make or break situation for some lines, depending on the premium paid for LSFO and how long a price gap between the two fuels exists. The assumption is that LSFO will command a $200 premium on HFO, which, given that an ULCV can consume around 100 tons a day at sea, would add up to $2m to the costs of a round-trip voyage of a single alliance Asia-North Europe loop.