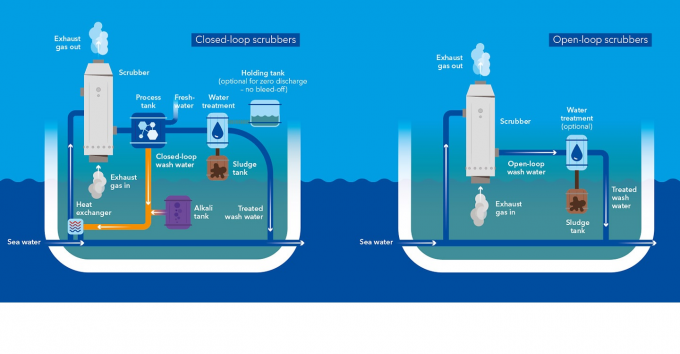 As the price gap between low-sulphur fuel oil (LSFO) and heavy fuel oil (HFO) widens, almost 30% of the global containership fleet capacity is now equipped with scrubber technology, according to an Alphaliner survey.
The consultant said the number of container vessels fitted with scrubbers increased by 150 last year, to 850 ships for 7.52m teu of capacity, with MSC continuing to lead the pack with nearly half its 640-strong fleet able to bunker with the cheaper HFO.
By comparison, Maersk, now the equal top-ranked carrier with its 2M partner, has 35% of its 736-vessel fleet capacity scrubber-fitted.
Other scrubber advocates include Evergreen, with 69% of 204 ships (1.48m teu capacity), and HMM with 83% of a fleet of just 75 vessels (820,000 teu) fitted out with an exhaust gas cleaning system.
At the other end of the scale, Japanese carrier ONE has scrubbers installed on just 18% of its 210-ship, 1.54m teu, fleet and Hapag-Lloyd, a long-time sceptic, has 17% of its 252-ship, 1.75m teu, fleet equipped with scrubbers.
According to Ship & Bunker's G20 index, which tracks the average bunker price at 20 major ports, the average price for LSFO leapt 46% last year, to $544 per tonne, and although HFO prices rose 53%, to $433 per tonne, the spread between the two fuels widened by 92% over the year.
"The good news for owners of scrubber-equipped tonnage is that the LSFO/HFO spread ended the year at a high of $153, having started the year at $79," said Ship & Bunker.
A carrier source told The Loadstar recently that the only thing stopping his line from ordering more scrubber retrofits on its fleet was the down time in the shipyard.
"We cannot afford to have a single ship out of service at the moment, but if things quieten down a bit later in the year, we will be first in the queue as the potential cost savings are massive," he said.
"But we have several [vessel] surveys coming up that we cannot postpone any longer, so we might be able to fit in the installations at the same time, when the ship is in dry dock, and we are checking this at the moment with our own ships as well as the chartered tonnage," he added.
Notwithstanding that many ports around the world have banned the use of open loop scrubbers that discharge wash water back into the sea in their controlled areas, the savings of $150 per tonne on a ship burning 75 tonnes a day at sea are substantial when multiplied across a line's fleet.
Carriers are also being encouraged by the seeming lack of appetite by IMO states to introduce tougher regulations on the use of scrubbers.