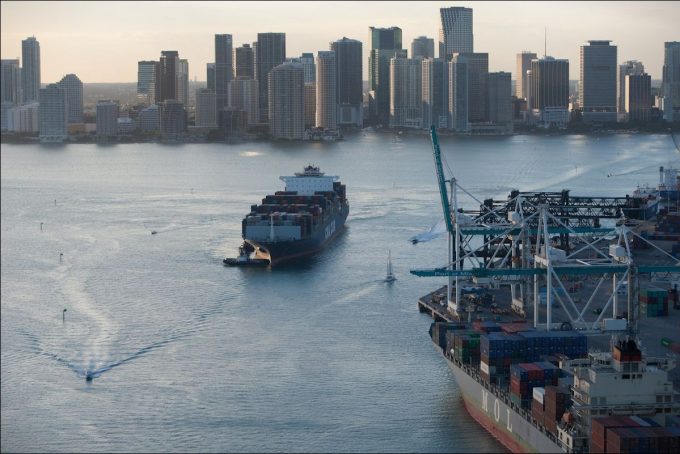 PRESS RELEASE

Nowports marks its 11th market after becoming the leading digital freight forwarder in Latin America

Miami, January 23th. Nowports, the Mexican unicorn and first digital freight forwarder in Latin America that has revolutionized supply chains with automation and artificial intelligence, takes a new step in its growth strategy by announcing the opening of its new office in Miami, following a successful expansion across 7 countries (and 10 offices) in Latin America.

With the mission to make a difference by unlocking access to and the handling of the full suite of supply chain services for businesses in emerging markets, Nowports is looking to Miami as the key to unlock growth opportunities for Latin American companies.

The South Florida city has become the perfect match for building relationships between the US and Latin America.

"We believe that transforming the supply chain in emerging markets can fuel their economic growth. The opening of our Miami office is a step in that direction. We are going to see a more intertwined commercial relationship between the US and Latin America in the next few years. Digitization of supply chains will be a crucial aspect of this new era", says Alfonso de los Ríos, its 23 years old co-founder and CEO of Nowports.

The pandemic unveiled the huge logistical challenges of moving goods across the world, and the current slowdown is providing a moment of relief. According to Alfonso, as ports and international logistics companies catch their breath, now's the time to invest heavily in tech to improve the infrastructure that largely crumbled at the height of the pandemic.

Ports and logistics need to catch up on digitization, automation, and geolocation if they want to future-proof their operations.

The road to Miami

Nowports grew from 250 employees in January 2022 to the 950 employees it boasts today and plans to keep growing even more in 2023.

Nowports' Miami office will start with 12 employees with the expectation that the number of people will double by May. The Mexican unicorn is looking for local commercial and operations talent. Their office will be at 252 NW 29th St. 9th Floor. Nowports expect this to be their first of many offices in the US.

Nowports became a unicorn in May 2022 after raising $150 million in a Series C round, three years after being founded in Monterrey by Alfonso de los Rios and Maximiliano Casal.

Nowports participated in the renowned Y Combinator accelerator in early 2019. Since then, it has been backed by large funds such as SoftBank Latin America Fund, Tiger Global, Mouro Capital, Foundation Capital, Broadhaven Ventures, Monashees, Soma Capital, Tencent and Base10 Partners.

The company has received several accolades including: The 10 most innovative companies in Latin America in 2022, "Entrepreneurs of the year" by Endeavor México Forbes Mexico's 30 Promises of Business 2021, El Español newspaper's D+I Innovation Awards 2021 and for its work culture in seven countries by Employers for Youth. It currently has a presence in the US, Mexico, Chile, Colombia, Uruguay, Peru, Brazil and Panama.