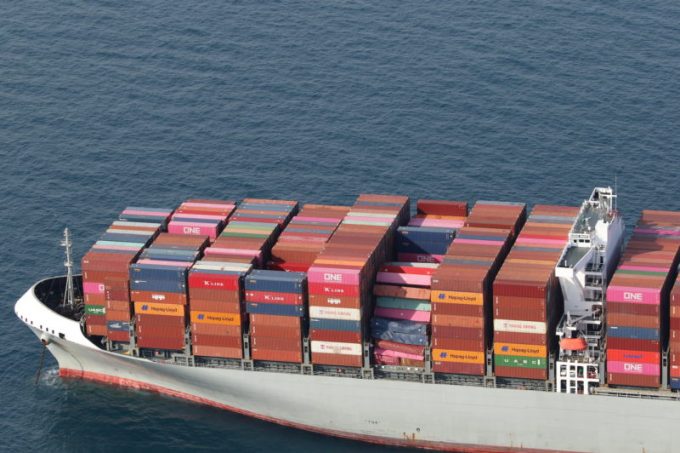 New evidence has emerged as to the cause of the container collapse on the ONE-operated Madrid Bridge, which has the dubious distinction of being the first overboard box incident of 2022.
An initial investigation – a copy of which has been passed to The Loadstar – reveals that the vessel had begun idling south of the Azores, in the mid-Atlantic, on 2 January to delay its arrival at the port of New York.
However, on 7 January, a large swell, along with 22-knot winds, hit the drifting vessel causing it to roll significantly, which led to the container collapse. A total of 65 containers were lost overboard with a further 89 said to be damaged.
The 13,900 teu vessel was deployed on THE Alliance EC4 service between Asia and the US east coast via Suez, along with 11 other vessels of similar size.
Madrid Bridge has now arrived at the recently opened Hugh K Leatherman terminal at Charleston, where the damaged containers and cargo booked for the port are being unloaded.
Meanwhile, in another case of lost containers, prosecutors in Australia have proceeded with criminal charges against the master of the APL England, which lost 50 containers overboard near Sydney in May 2020, with further 63 damaged.
The Australian Maritime Safety Authority (AMSA) originally intended to charge the master, Mohammed Zulkhaili Bin Alias, with marine pollution, but this has since been amended to operating an unseaworthy vessel.
An AMSA inspection shortly after the incident discovered the lashing arrangements for cargo had been "inadequate", and securing points for containers on the deck were "heavily corroded."
AMSA general manager of operations Allan Schwartz said: "These findings constitute a clear breach of a requirement under SOLAS to ensure that a ship and its equipment are maintained so as not to present a risk to the safety of the ship itself or anyone on board."