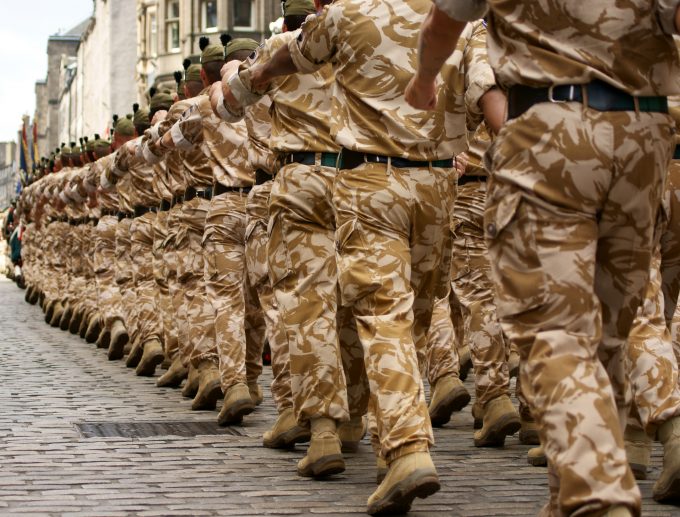 The logistics supporting British Army operations will be transformed after the opening of a new defence fulfilment centre in November.
By consolidating freight, the Ministry of Defence (MoD) could see the number of annual shipments it procures reduce by some 40%, claimed the project leader.
Kuehne+Nagel (KN) is part of a consortium – which includes US firm Leidos and TVS Supply Chain Solutions – that last year was awarded a 13-year contract by the MoD to help transform its logistics services, understood to be one of the largest military logistics outsourcing projects.
John Hartley, UK director of storage, distribution and freight at KN, and the project lead for the company, described its scale at last week's IMHX exhibition in Birmingham.
"The MoD's logistics structure was originally designed during the Cold War and in an era of conventional wars in fairly predictable locations, but that is not the reality of warfare today.
"Military planning is now about rapid reaction," he said, adding that the MoD had recognised that the army's logistics support network was underperforming.
"In-house management had done a great job but everything had got to point where it had just hit the buffers.
"The MoD has over 150 warehouses across the UK, which are generally low-grade facilities, some built decades ago, and it was impossible for the organisation to operate efficiently.
"There was also an ageing IT system, a lot of double-handling and an inability to consolidate shipments," he said.
Mr Harley describes the first three years of the consortium's contract as the transformation part of the deal, which features the soon-to-be-opened adjacent warehouses at its site at Donnington in Shropshire – DFC1 and DFC2.
DFCs 1 and 2 will combine as the principal consolidation point for the British Army's non-weapons supplies, handling huge amounts of food, clothing and general and medical supplies.
"We were fairly clear that if we wanted to improve the logistics, we really needed to consolidate the maximum number of despatches in one location in the UK, but at somewhere which also gave us the ability to be flexible at very short notice," he said.
As a result, all freight will be consolidated through DFCs 1 and 2, which have been designed on a hybrid basis, featuring standard distribution facilities augmented by a miniload system for smaller consignments.
"There is a lot of stock that hasn't moved for over five years, but if it is required it may have to be available for despatch within an hour of being ordered – to the choice between optimisation of the supply chain and flexibility," said Mr Harley.
Partly as a result of this, Kuehne+Nagel is also set to control the MoD's freight procurement.
"Distribution and freight is covered by a single KN control tower, and we integrate all air, sea, road and rail movements from there," he said. "Having one location reduces consignments by 40%, while warehouse efficiency is up by 50%.
"In addition, we are taking out double-handling and there is now complete stock visibility across the entire network."