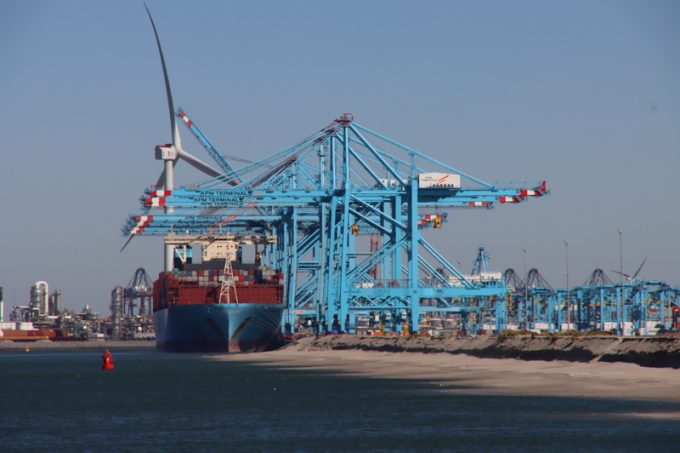 A just-in-time (JIT) shipping trial at the port of Rotterdam has highlighted the potential for "enormous" fuel and emission savings.
Across the industry, container vessels waste hundreds of days a year waiting for a berth, usually only receiving notice of berth availability around two hours' sailing time from a port.
However, for the Rotterdam, Maersk, MSC and IMO trial, 26 vessel calls were analysed over a month and, by modelling two different JIT scenarios, 9% less fuel was used when ship speed was optimised in the last 12 hours to reduce waiting time, or 8% when optimised over 24 hours.
"And that's just for one vessel," said Emile Hoogsteden, Port of Rotterdam director for containers, breakbulk and logistics. "The potential savings in emissions and bunker costs are enormous.
"What this shows is having standardisation, sharing data, and digital tools like PortXchange really helps."
Indeed, Rotterdam's port call optimisation tool, previously called Pronto, was created to ensure the relevant data is shared between the different parties in the port-chain at the same time, according to Mr Hoogsteden, allowing JIT shipping to function.
For example, PortXchange shares data between shipping lines, terminals, pilots, tugs and fuel barges that would normally be done manually.
While optimising port calls at Rotterdam is helpful, the port is keen to help customers by making the whole container supply chain more efficient, which means coordination, standardisation and data sharing with other ports, in northern Europe and in Asia, it said.
Mr Hoogsteden told The Loadstar: "When you start developing tools like PortXchange, it's good for Rotterdam, but it's even better if you share it with ports around the world, because then you learn from from each other."
Other ports trialling the tool include Felixstowe, Algeciras, Houston and London Gateway, he said.
Data sharing between stakeholders within a port, as well as between ports, has been a challenge in developing digital tools like PortXchange, due to the potentially sensitive nature of the information.
However, Mr Hoogsteden said the Covid-crisis, among other reasons, had helped accelerate ports' willingness to pursue digitalisation and collaboration beyond the terminal gate.
"Previously, some companies wanted to sit on their data, as they were either scared of sharing or thought they could make tons of money from it," he explained. "Whereas, in reality, data sharing can make a bigger pie for all those participating and what we see now is companies slowly but surely getting over that point."
Meanwhile, the vertical integration in the logistics industry is also impacting port authorities like Rotterdam. Like JIT shipping and digitalisation, Mr Hoogsteden said this was also leading to a "wider conversation" on collaboration and what's happening outside the port.
"At the end of the day, we still have the same customers, but discussions are broadening and all of a sudden you're talking about hinterland transport and sharing information both inside and outside the port; and we're developing digital tools to facilitate this."