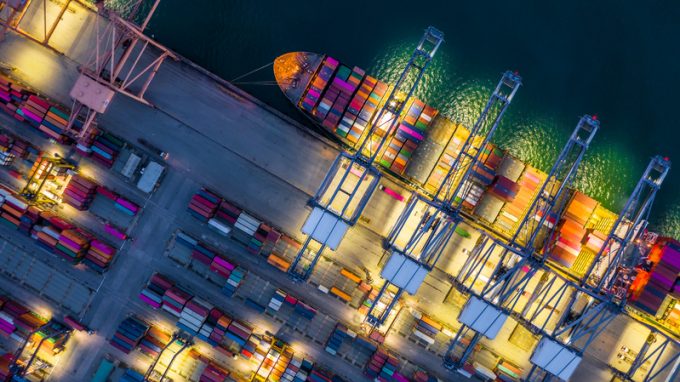 Port digitalisation and collaboration beyond the terminal gate has been "supercharged" by the Covid crisis.
According to Jonathan Beard, infrastructure advisory partner at Ernst & Young, the move to digitalise port ecosystems, and not just terminal automation within the port, is now a top priority.
"Terminal operators have always been very aware their performance is heavily dependent on things that take place outside the gate," he said during the Seatrade Maritime Middle East event.
"But now we're seeing more and more locations where terminal operators are actively working with other participants in the ecosystem to see how they can better bring those parties together to accelerate trade and make those port ecosystems more resilient."
Covid has highlighted several weaknesses in ports and container supply chains, Mr Beard noted, such as with paper-based transactions.
For example, the World Economic Forum estimates some 20% of the $9trn worth of goods traded each year is spent on administration – a huge inefficiency, which could be slashed by greater digitalisaiton.
DP World is among terminal operators looking to increase their influence beyond the terminal gate, both physically and digitally.
Yesterday, The Loadstar reported how the company had launched an integrated logistics service on the India-Europe tradelane, and a new white paper has detailed DP World's vision for a "new age of port-centric logistics", such as the 3PL services it provides in the Dominican Republic.
Mike Bhaskaran, chief operating officer – logistics and technology, said: "Any one stage of the supply chain represents a myriad of digital systems that should work in tandem, but too often do not talk to each other. In logistics, leveraging physical infrastructures with digital capability can yield powerful results, allowing cargo owners to move their goods quickly, safely and efficiently."
However, cooperation between competing ports, which often develop their own digital tools, is one major challenge to greater digital integration of the end-to-end ecosystem and Robert Sutton, head of logistics at Abu Dhabi Ports, said ports were now collaborating more, and "no longer by choice but by necessity".
He added: "The necessity is driven by optimisation of the supply chain and customers looking for that kind of connectivity."
Edward Tah, CEO of PSA subsidiary Saudi Global Ports (SGP), argued that the "void" left by shipping lines was driving the need for collaboration, noting that bigger vessels had reduced the number of potential port calls, but terminals still needed to "facilitate the connectivity required in a hub-and-spoke arrangement".
Mr Tah said SGP's collaboration was focused on partners further up the supply chain, hinting the company might follow DP World's lead in entering the feeder market.
"Our preference right now is to to collaborate with our direct customers, in terms of feeder activity in Dammam port, and we may consider deepening such partnerships, depending on market requirements."