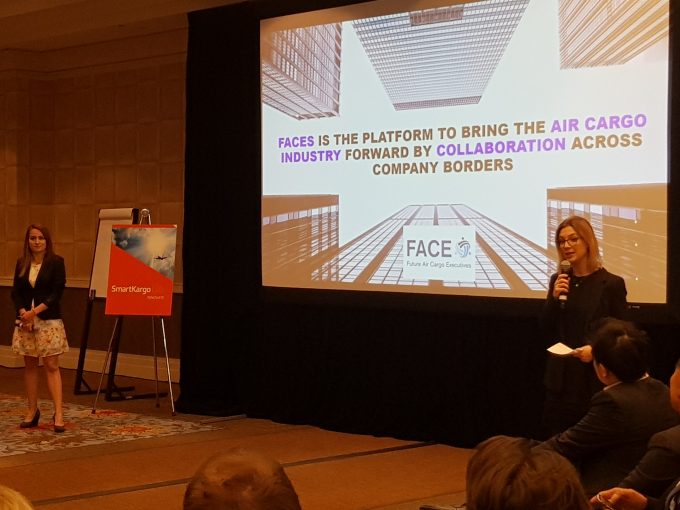 The next generation of the air cargo industry is engaging, dynamic and confident, with interesting questions, good ideas – and a sense of humour.
At yesterday's FACE (Future Air Cargo Executive) event, on the eve of the World Cargo Symposium in Dallas, about 40 delegates – refreshingly split evenly between genders – revealed how the industry could look in 15 to 20 years' time.
IATA established the programme five years ago, in response to the industry's need to attract and train and retain the new generation.
This year, it also launches its Face Up career competition, in which graduates submit a thesis which could drive positive change in the industry.

A team of 13 people are currently involved in the FACE initiative, from six types of company. They have monthly conference calls to swap ideas and experiences, and there is an active Facebook page with about 125 members.
The battleground is, said rising star Sara van Gelder, "a seamless customer experience in an era of liquid customer expectations".
The FACE team are hoping to set up a mentoring system with "retired" FACEs.
"It's easier to ask a question of someone of your own age," said Ms Van Gelder. "Our bosses expect bright ideas, not experience, and that's where we can help each other."
No mention was made of the companies they work for, because the "focus is on collaboration across company borders".
Nadia Belkebir-Diagne, project manager for IATA, said companies had been enthusiastic about the programme. Acknowledging that there is a high cost to sending staff to an event such as WCS, she said many companies used the event as an incentive to encourage staff, and some used it as a bolt-on to their own training programmes. There is also a discount for young attendees.
Sponsored by SmartKargo, the attendees heard visions of the future and what the industry needs to drive it forward.
But most engaging was the participants themselves. Typical questions ranged from: "Will all commerce be e-commerce?"; "Do companies need to disrupt themselves, or will change come from outside?"; "If cargo has no financial value, eg human remains, how are mistakes compensated and how is it valued?"; "What value can be added by working together?"; and "If Amazon's value lies in its data and analysis, who will be the first in air cargo to have and use that data, and how?"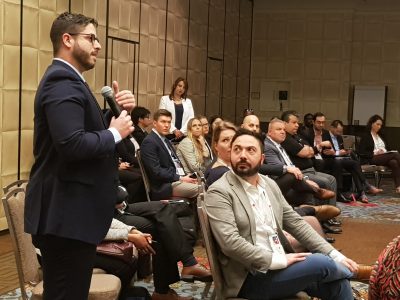 The second half, led by consultant Anthony Sam, from CCM Consultancy, focused on the qualities which make good leaders (advocacy, empathy and trust), and ended in a task in which teams had to make a presentation, arguing to management why their department (HR, operations, finance, sales & marketing, research & development) should be given a company windfall of $50,000.  The exercise resulted in typical corporate decisions: to outsource or go in-house; to own or lease assets; to invest in the product, or in sales.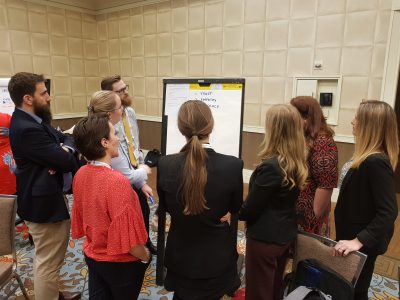 The "Windfall Exercise" was engaging, intelligent and funny – and could herald a new era for corporate discussions. The 'sales & marketing department', which promised a Safari incentive to top sales teams, and a "guaranteed" windfall for the rest of the company to divide up the following year, won.
FACES will be discussed in the Closing Plenary – when the industry will be able to vote on the three finalists (all Netherlands graduates) in the FACE UP career competition.
Caroline Larisch, 31, who has a master's degree in supply chain management from the University of Maastricht, is investigating the inefficiencies in the fashion industry supply chain – her thesis is "Corporate sustainability initiatives in the fast fashion industry, and the role of the consumer".
Danny Jonker, 24, a graduate of, and now lecturer at, Fontys University and currently doing a master's in supply chain management at Maastricht, is examining the average parcel size in e-commerce shipments to find out if there is a "better fit", which would involve shipping less air.
Femke Sickler, 24, who did mechanical engineering at Delft University of Technology and is now an intern at KLM Cargo, is looking at enhancing the cargo acceptance process – essentially ensuring that documentation is complete at the country of origin, data is communicated and how to enhance efficiencies along the route.
The competition will be run every other year. For more information, go here.